Steven Spielberg Almost Directed 'American Sniper,' Here's How His Version Would've Been Different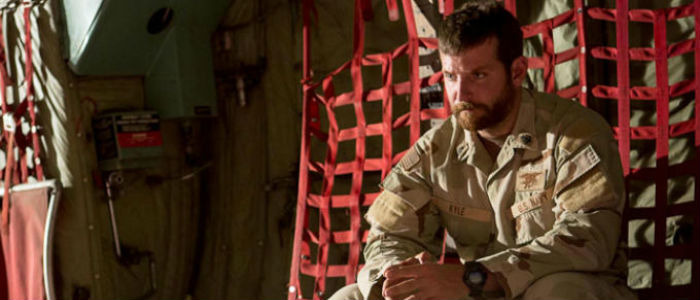 Long before American Sniper was nominated for six Oscars or grossed $100 million on its opening weekend, it was almost a very different movie. In the summer of 2013, Steven Spielberg was attached to direct the film based on the memoir of U.S. sniper Chris Kyle. Bradley Cooper was still attached to star and produce. However, after a few months of development, Spielberg dropped off the project. Director Clint Eastwood quickly jumped on and history was made.
So what was different about Steven Spielberg's version of American Sniper? In a behind the scenes story about the movie, screenwriter Jason Dean Hall revealed some of the suggestions Spielberg made about the script and how they forced Warner Bros. to move in another direction. Read the Steven Spielberg American Sniper quotes below.
The Steven Spielberg American Sniper information comes from a piece in the Hollywood Reporter, with a hat tip to the site From Director Steven Spielberg. Here's an excerpt from the article:
For a few months ... it looked as if Steven Spielberg would be directing American Sniper. Spielberg had read Kyle's book and Hall's screenplay and was willing to commit to it as his next movie, with DreamWorks co-producing. But he had some ideas of his own. For one thing, he wanted to focus more on the "enemy sniper" in the script — the insurgent sharpshooter who was trying to track down and kill Kyle. "He was a mirror of Chris on the other side," Hall explains of Spielberg's vision. "It was a psychological duel as much as a physical duel. It was buried in my script, but Steven helped bring it out."
As Spielberg added more and more ideas to the story, the page count continued to grow, bloating to 160. Warner Bros.' budget for the film, though, remained a slender $60 million. Ultimately, Spielberg felt he couldn't bring his vision of the story to the screen for that amount of money and dropped out of the project. Within a week, Warner Bros. president Greg Silverman, one of the three executives who run the studio, asked domestic distribution chief Dan Fellman to call Clint Eastwood.
This is a pretty incredible revelation. One of the criticisms I've read about American Sniper is how Eastwood's movie makes that enemy sniper such a blank slate. That he's nothing but pure evil and even a hint of humanity would have opened up not only Kyle's story, but the movie's as well. It seems that Spielberg agreed.
Think about that now. Warner Bros. didn't want to give Steven Spielberg more money to make American Sniper because the script was getting too long and complicated. It obviously worked out well for them, but it certainly sounds like they weren't as confident in 2013 as they are now in 2015.
Do you think Clint Eastwood's version of American Sniper is better than Spielberg's would have been?