'Fifty Shades' Is Fast-Selling R-Rated Ticket In Fandango History; What Are The Others?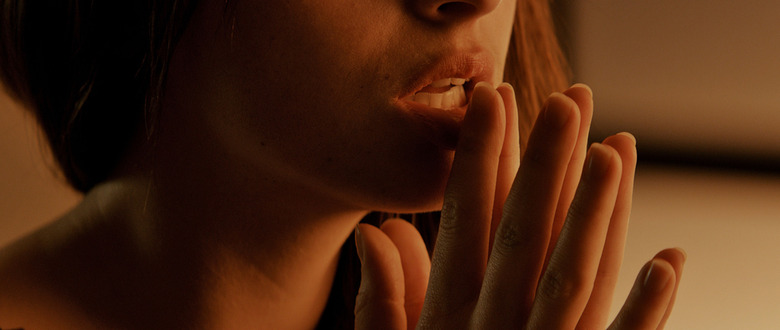 The MPAA stamped Fifty Shades of Grey with the expected R rating earlier this month, citing, among other things, "unusual behavior." But that's proving more of a turn-on than a turn-off for moviegoers.
Fandango reports Fifty Shades of Grey has just become the fastest-selling R-rated advance ticket in the company's 15-year history. What are the other R-rated hits it beat to get there? Find out after the jump.
According to Fandango, these are fastest selling R rated advance tickets ever, as measured by the first week of sales:
1. Fifty Shades of Grey
2. Sex and the City 2
3. The Hangover Part II
4. The Hangover Part III
5. Gone Girl
In addition, Fifty Shades of Grey had the biggest first week for any non-sequel since 2012's The Hunger Games. Not bad for a story that famously started out as Twilight fan-fiction. Fandango Chief Correspondent Dave Karger talked up the film's popularity in a statement:
It's tracking to be Fandango's fastest-selling R-rated movie of all time. Very few books can claim true national phenomenon status – and Fifty Shades ranks with Twilight, The Hunger Games and Gone Girl as novels that entered the zeitgeist from coast to coast. Fans of the book have been waiting for years to see their favorite sexy characters come to life on the big screen, and they are clearly fueling our sensational advance sales.
Love it or hate it, Fifty Shades of Grey has clearly struck a chord with a lot of moviegoers — or the concept has, at least, since no one has seen the film. Theaters are reportedly adding showtimes to keep up with demand.
Then again, perhaps they shouldn't have been taken by surprise. The steamy romance also ranked in the top 4 in a Fandango survey of the most-anticipated films of 2015, alongside Star Wars: The Force Awakens, Avengers: Age of Ultron, and The Hunger Games: Mockingjay – Part 2.
Should Fifty Shades of Grey's sales keep up through its theatrical run, there's plenty more source material where that came from. E.L. James' novel is just the first in a trilogy, followed by Fifty Shades Darker and Fifty Shades Freed.
Directed by Sam Taylor-Johnson and starring Jamie Dornan and Dakota Johnson, Fifty Shades of Grey opens February 13.