Bill Lawrence Spills 'Rush Hour' TV Series Details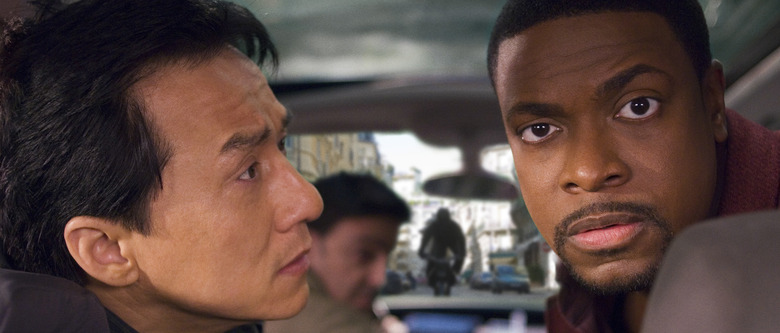 One of the many, many film-based TV series in development is Rush Hour, which received a pilot commitment from CBS last fall. We've known that the basic premise would remain unchanged from the 1998 film, which starred Jackie Chan and Chris Tucker, but now executive producer Bill Lawrence has a few more details to share about the show.
Hit the jump for the latest Rush Hour TV series details. 
The original Rush Hour centered around a mismatched pair of detectives: cocky LAPD officer Carter, played by Tucker, and reserved Hong Kong Police Force inspector Lee, played by Chan. The Rush Hour TV series will pick up with the same duo in a different context.
"New plot, same characters," Lawrence told NuketheFridge. "A little younger, a little different, fish out of water. It's a cool script. I'm psyched about it."
One of the most obvious differences between the film and TV versions of Lee is that the small-screen version won't have Chan's unique martial arts ability. In fact, Lawrence revealed that he wasn't necessarily looking to cast an actor with martial arts experience for the role.
"The character will be a martial artist, but you know how TV works," he said. "I'm going to go with the best actor and then I'll make anything work."
The original Rush Hour film gave rise to two sequels released in 2001 and 2007. There's been on-and-off talk of a possible Rush Hour 4 ever since, with Chan saying as recently as last summer that he'd been approached about a sequel. But as of now, it looks like the TV series will come to fruition first.
The Rush Hour TV series is planned as an hourlong action-comedy. Lawrence and Blake McCormick are writing the script, with the latter also serving as showrunner. Brett Ratner, who directed all three Rush Hour movies, will serve as executive producer.