Could We Get More '24' Without Kiefer Sutherland?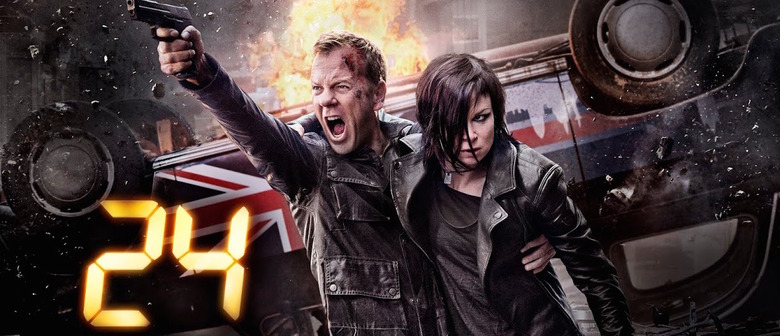 Kiefer Sutherland has indicated that he may be done with Jack Bauer, even as Fox keeps insisting there could be more 24. Well, it turns out those two statements aren't mutually exclusive — because Fox is considering making the next installment without him.
That said, Fox is hopeful Sutherland will want to return eventually. The latest pitch includes an opportunity for Sutherland to come back, should he change his mind. More on the possibility of a 24 without Kiefer Sutherland after the jump.
Speaking at the TCA panel this weekend, Fox co-chairman/CEO Dana Walden revealed that the network wants to put another installment of 24 on air as early as 2016, with or without Sutherland. According to her, the actor supports the idea:
We have discussed it with him. We talk to Kiefer all the time. He's a great creative partner, potentially he won't be in this installment. We're not sure yet. We're not that far along, but I know he supports us doing more 24.
Still, Walden remains optimistic he could return:
First of all, we're not talking about continuing the show without him. We're talking about whether there's one installment that he's not in. I think if the storytelling is exciting enough, that real-time element that the show really owns–so many of the production aspects are so unique to that show–I do [think we could do it without him]. I think [it could be] great characters with that creative team. I look at everyone that's surrounded Kiefer in the last installment and I think it could work.
Indeed, Walden recently heard a pitch for a new season that would leave the door open for Jack Bauer's return. "It was very early in the origin stages and it could've gone either way," she said. "Jack Bauer could come in very organically in the story, or [producers are] prepared to do something that would be the one installment without him."
In December, Sutherland told press he didn't envision doing more 24. "Me, I don't see going back to it," he said. "We had set out to do 12 episodes [of Live Another Day] to end the show and deal with some of the past history of the show."
Even at the time, however, Sutherland freely admitted he'd sung this tune before. "I think I said the same thing at the end of Season 8," he said. "So I would hate to be held to that."
Sutherland's unwillingness to return could turn out to be nothing more than a negotiation strategy, as could Fox's readiness to move forward without him. But if both sides decide to maintain their stance, what do you think? Is 24 still 24 without Jack Bauer?