First Look: 'Now You See Me 2' Cast Photo Featuring Jesse Eisenberg's Short New Haircut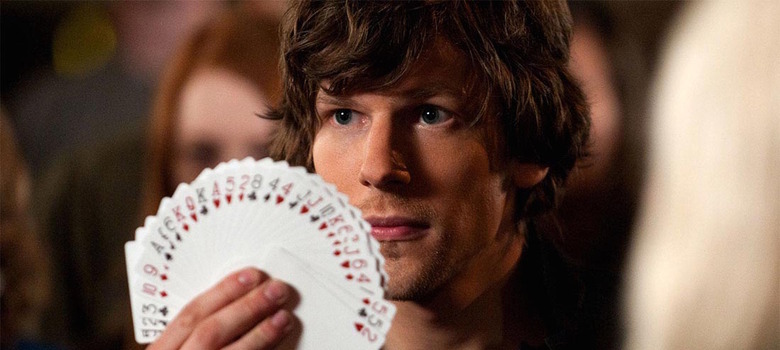 Now You See Me turned out to be a sleeper hit in the summer of 2013, so the Four Horsemen have reunited for Now You See Me 2. Well, three of the Four Horsemen are, anyway. Jesse Eisenberg, Dave Franco, and Woody Harrelson are all back for the sequel, while Lizzy Caplan has replaced Isla Fisher as the female lead.
Also not returning? Eisenberg's unruly mop from the first film. In the first cast photo from Now You See Me 2, his hair is closely cropped — presumably because he's just come off of Batman v Superman: Dawn of Justice. Hit the jump for your Now You See Me 2 first look, also featuring Mark Ruffalo, Daniel Radcliffe, and Michael Caine.
Fandango debuted the Now You See Me 2 first look.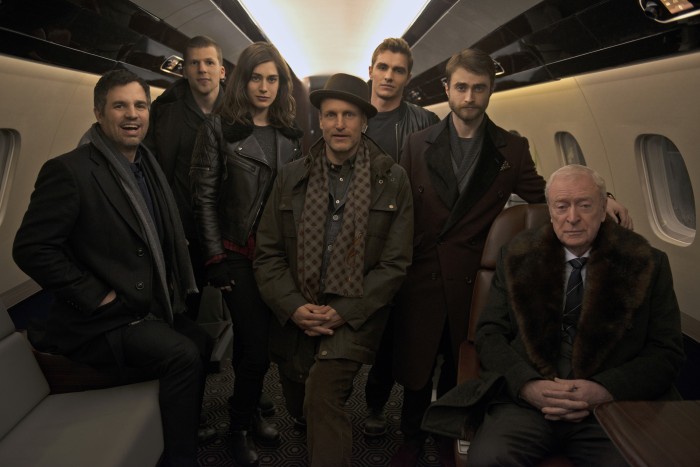 Director Jon M. Chu posted his own version on his Instagram page.
Here's the official synopsis for Now You See Me 2:
One year after outwitting the FBI and winning the public's adulation with their mind-bending spectacles, the Four Horsemen resurface in NOW YOU SEE ME 2 only to find themselves face to face with a new enemy who enlists them to pull off their most dangerous heist yet.
Not pictured are new cast member Jay Chou (The Green Hornet), and returning cast member Morgan Freeman. Radcliffe plays Walter, son of Caine's insurance magnate character Arthur Tressler, while Caplan plays a character named Lula.
Eisenberg's haircut here will be of interest to anyone who's been following the back-and-forth over Lex Luthor's hairstyle (or lack thereof) in Batman v Superman: Dawn of Justice. The production has gone out of its way to keep it under wraps, but Eisenberg's very short hair suggests he may have shaved his head recently. Not that it really matters either way — there's more to Lex Luthor than a shiny dome.
Now You See Me 2: The Second Act will land in theaters June 10, 2016.