Will The Next 'Star Wars: The Force Awakens' Trailer Feature The Original Characters?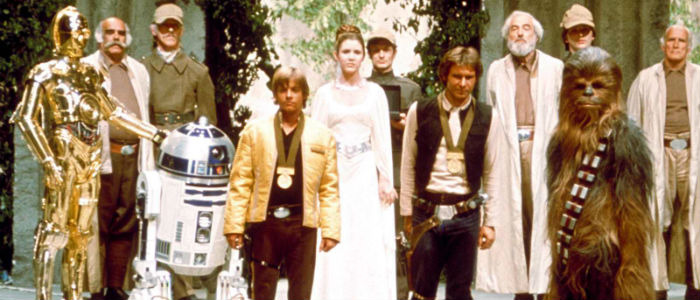 Last week, Latino Review ran an article about next trailer for Star Wars: The Force Awakens debuting with Avengers: Age of Ultron. However, since you read /Film, you already knew that because we broke that news a month prior. What our friends at Latino Review mentioned that we didn't though was the trailer would include footage of Han, Luke, Leia and Chewbacca. That was news to us.
You see, the source who tipped us off to the new trailer told us something almost totally different. They said the original trilogy characters would not be featured in the marketing because Lucasfilm wants to keep their specific roles as secret as possible. Plus, with so many new characters, worlds, ships, etc. to sell people on, they don't want to show too much familiar stuff. They want it to be Star Wars, but a new Star Wars, like the first teaser trailer. Familiar yet different.
Our source never said we wouldn't see the characters at all. It was just strongly implied they would be in the background. Could this strategy, one we heard about in late November, have changed? Could Disney have decided to put the original trilogy characters in the marketing? Like most things, the truth will most likely be found in the middle.
Let's be honest. There's no way the filmmakers will totally hide all of the original trilogy characters out of the marketing. To once again see Mark Hamill, Harrison Ford and Carrie Fisher as those iconic characters is going to be an unforgettable moment for most Star Wars fans, this one included. But those Star Wars fans are already Star Wars fans. Think about the kids. The kids who are seeing The Force Awakens like their parents before them. Young, fresh, not quite sure what to expect. Those are the fans who Disney needs to rope in to make the billions upon billions of dollars they plan to for the next 20, 30, 40 years. And how do you do that? By showing some 70-year-old man jumping around with a blaster? Or some cool new, young heroes and villains battling it out? In most likelihood, both, because this is a movie about the passing of the torch. A movie about the new generation taking over for the old generation in a Galaxy Far, Far Away.
We still have no idea how Luke, Han, Leia and Chewie play into this movie. How they'll play into the subsequent movies. What we do know is their roles will be very important to the fabric of Star Wars moving ahead. But they won't be as important as the other characters that will star in the subsequent movies, games, shows, etc. That's why we're very much likely to see more John Boyega, Daisy Ridley, Oscar Isaac, Adam Driver and others over the original actors.
Our friends at Latino Review have a very good reputation and I believe their report. They're right about the trailer release (though I assume the world will first see it at Star Wars Celebration) and the original trilogy characters could very well pop up in a trailer. But many online taken that report to mean they're going to be the sole focus and, trust us, that is not the case. Han, Luke and Leia will not be the stars of anything Force Awakens until we see The Force Awakens. We'll see them – we'll get that tease fans desire – but their roles, unlike Finn, Rey, Poe, Kylo and others, are going to be closer to the dark side for now.