Tim Burton Might Film 'Beetlejuice 2' By The End Of 2015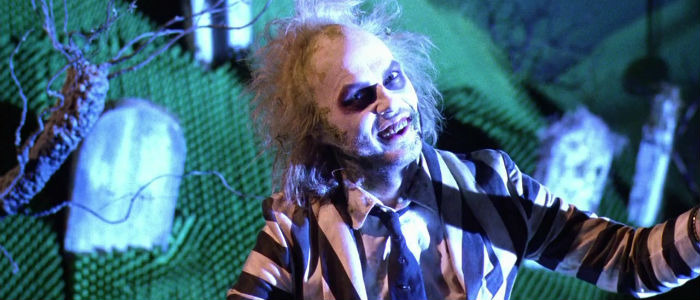 Tim Burton's latest film, Big Eyes, is now in theaters. His next film, Miss Peregrine's Home For Peculiar Children, is getting ready to shoot, aimed at a March 4, 2016 release. Once he's done with that, the prolific filmmaker has a ton of options to choose from (as always). According to writer Seth Grahame-Smith, that's when he'll make their vision of Beetlejuice 2 into a reality. Read more about this as well as more Beetlejuice 2 news below.
Grahame-Smith did a massive interview with Entertainment Weekly about all kinds of different projects he has coming out. But here's what he said about Beetlejuice.
I've emailed with Michael Keaton. I know he's excited about the idea. I know Tim is excited about the idea. Where it stands now is Tim's got to get ready to make [Miss Peregrine's Home For Peculiar Children], and then hopefully we are set, deals are done, and we're waiting in the wings ready to go right after Peregrine's wraps up. The ideal timeline is we're really getting into it toward the end of this year.
Wow. A possible late 2015 start date? That's incredibly encouraging for anyone who wants to see the sequel. But Grahame-Smith admits it's really scary for him:
I think we landed on the right idea, landed on the right approach. It's just now making sure that—for me—I don't want to shit my pants in front of the entire world making a sequel to one of my favorite movies.
One thing that will help though is, yes, Winona Ryder will be back as Lidia:
[Burton] was doing press for Big Eyes right before the holiday, and was getting the 

Beetlejuice 

question, and sort of tipped people off that Winona [Ryder] would be back. Which yes, she will be back.
Lots of good info on the long discussed sequel. Will Burton actually make this movie right after Miss Peregrine? He definitely has been pretty keen on it so it makes sense. That would mean, potentially, Beetlejuice 2 could be out by Holiday 2016 or Spring 2017, more likely.