Sequel Bits: Ghostbusters 3, Beverly Hills Cop 4, Sharknado 3, Friday The 13th, Independence Day 2, Jurassic World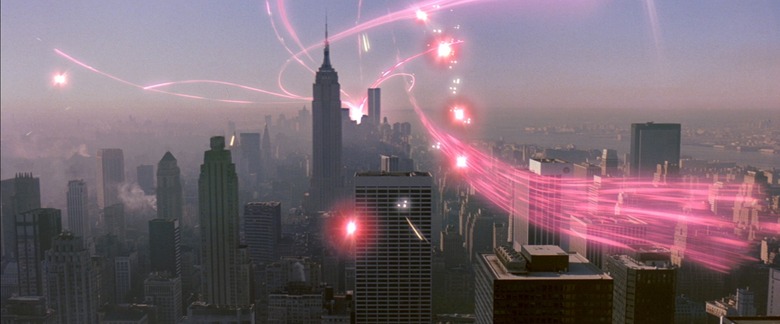 There are some big updates on some really big sequel in this edition of Sequel Bits. Below, read about the following.
Paul Feig says his Ghostbusters reboot will take place in New York and include winks to the original.
Don't fret, Ian Ziering and Tara Reid are returning for Sharknado 3.
Teenage Mutant Ninja Turtles 2 starts filming in April.
There's still no script for latest Friday the 13th sequel.
See a new poster for Hot Tub Time Machine 2.
Eddie Murphy sounds less than optimistic about Beverly Hills Cop 4.
See an image of Roland Emmerich location scouting for Independence Day 2.
New images of the evil D-Rex from Jurassic World have hit the web.
Speaking to Empire, co-writer and director Paul Feig dropped a few small details on his Ghostbusters reboot. First, it'll obviously be set in New York. "To me it's such a New York movie and the biggest sin would be to pull it out of there," said Feig. "I just love New York and, selfishly, I just want to shoot in New York." He also said there have been talks with Melissa McCarthy but there are still some hurdles, plus the film will have nods to the original while being its own thing.
We're not recreating the old movie but we want to do just enough fun nods that the fans will go, 'Oh, okay, they're acknowledging that the other movie existed.' I like to watch parodies, but I don't want to do them because they're too referential. Comedy that's too referential has such a short shelf life, whereas comedy that's based around characters will be relatable 2000 years from now because people won't change that much.
Read more at the link.
We've been hearing that Sharknado 3 is in the works with a brand new, Washington DC setting. Now another piece of the puzzle has been revealed. As expected, stars of the first two movies - Ian Ziering and Tara Reid – have signed to reprise their roles in the Syfy film. Variety has some more.
Collider spoke to the team at Platinum Dunes who offered brief info on two of their sequels that already have release dates. First up, they'll start filming Teenage Mutant Ninja Turtles 2, in New York, in April, aimed at the film's June 2016 release. Months before that though, they're scheduled to provide a Friday the 13th sequel. The release date is still November 13 but according to the team, they're "working on the script still." Beyond that, everything is still on schedule.
Paramount released this new poster for Hot Tub Time Machine 2: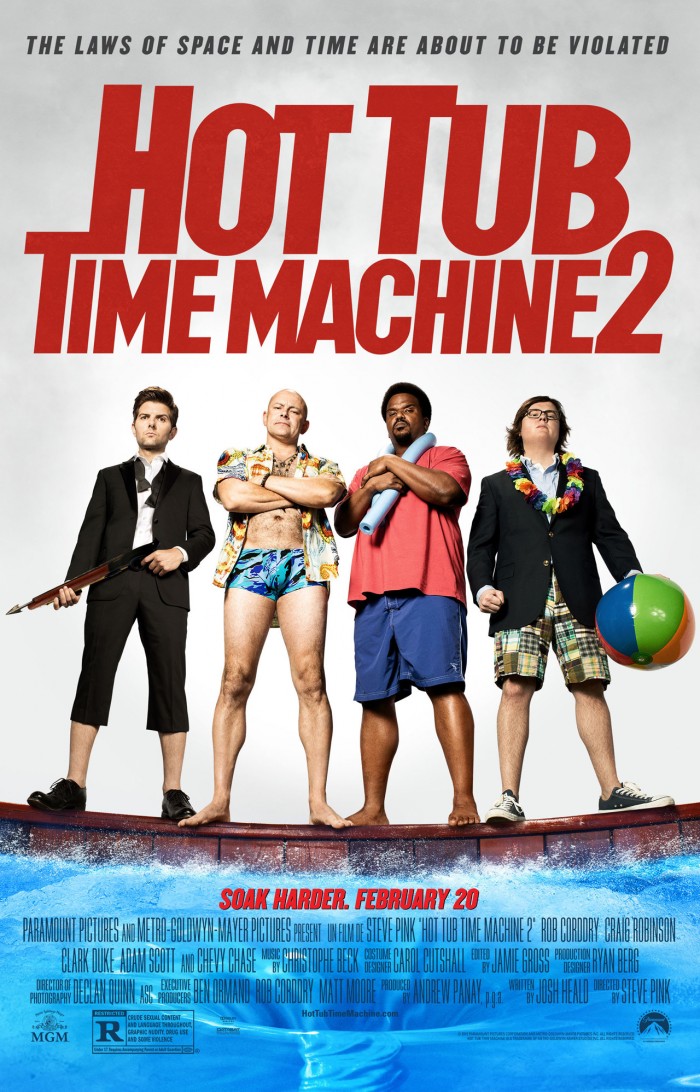 Speaking of Paramount, they supposedly are still planning on releasing Brett Ratner's Beverly Hills Cop 4 in March of 2016. But the star of that film, Eddie Murphy, talked to Rolling Stone and made it sound like the movie isn't quite there yet. Here's what he had to say:
They still trying to get that script right. I'm not doing a Beverly Hills Cop unless they have a really incredible script. I've read a couple things that look like they can make some paper. But I'm not doing a shitty movie just to make some paper. The shit got to be right.
Roland Emmerich just tweeted this image from the location scout on Independence Day 2. Looks similar to the deserts around Area 51 in the first movie.
Meet the scouting crew for #IndependenceDay 2! @20thcenturyfox @HaraldKloser Missing @Dean_Devlin! pic.twitter.com/B6JF154yOT

— Roland Emmerich (@rolandemmerich) January 16, 2015
Last but not least, a photo has been circulating of what looks to be the evil hybrid dinosaur, the Indominus Rex, aka the D-Rex in Jurassic World. In the past, when we posted an image of it, Universal Pictures told us to take it down but that doesn't mean we can't let you know that if you click this link you may be able to see it. Think a T-Rex with longer arms, and more spikes. Basically a T-Rex sized velociraptor, which is probably exactly the point.