New 'Get Hard' Trailer: Kevin Hart Gives Will Ferrell A Makeover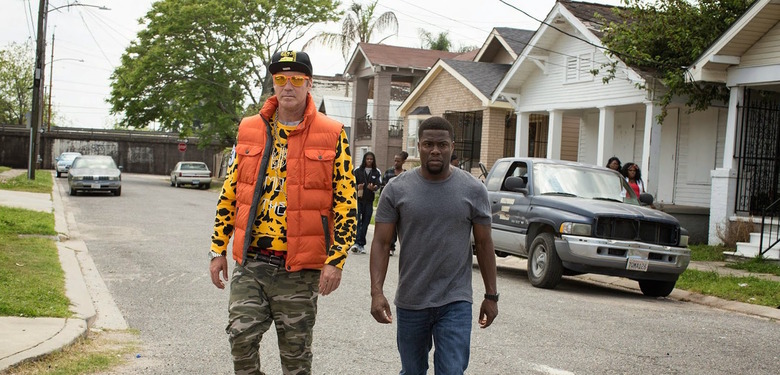 As The Wedding Ringer hits theaters, Warner Bros. has just released the latest trailer for Get Hard, Kevin Hart's other 2015 movie about giving an image makeover to an awkward white guy.
In this one, Hart plays Darnell, who is enlisted by hedge fund manager James (Will Ferrell) to help him prep for his upcoming stay in prison. What James doesn't realize is that Darnell has no more experience with prison life than he does. Watch the latest Get Hard trailer after the jump.
Warner Bros. unveiled the latest Get Hard trailer on YouTube.
Get Hard trailer
Get Hard almost seems topical, given all the conversations we as a society have had lately about the damaging assumptions we hold about black men. There's also the white-collar crime angle, though the idea of a hedge fund manager getting sentenced to hard time in a maximum-security prison seems more fantasy than reality.
But this movie looks more interested in being a silly romp than a scathing satire, which is fine too. Hart and Ferrell seem to have a fun chemistry together, particularly in that last scene of them sobbing while driving. And I'm not above laughing at the inherent hilarity of seeing the very short Hart paired with the very tall Ferrell.
Get Hard opens March 27, 2015.
When millionaire hedge fund manager James (Will Ferrell) is nailed for fraud and bound for a stretch in San Quentin, the judge gives him 30 days to get his affairs in order. Desperate, he turns to Darnell (Kevin Hart) to prep him for a life behind bars. But despite James' one-percenter assumptions, Darnell is a hard-working small business owner who has never received a parking ticket, let alone been to prison.
Together, the two men do whatever it takes for James to "get hard" and, in the process, discover how wrong they were about a lot of things – including each other.