POTD: Seth Rogen Tweets Films That Inspired 'Preacher'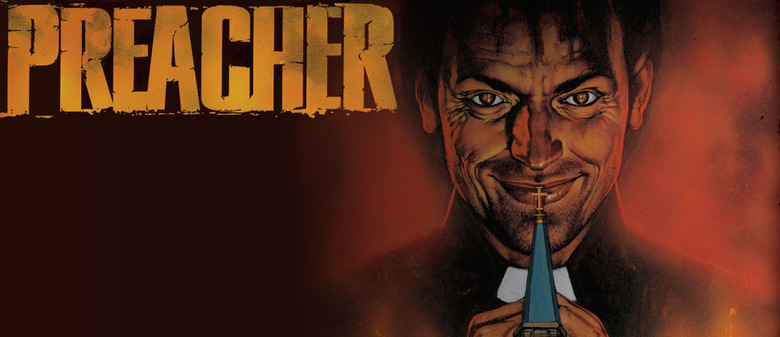 Seth Rogen's Preacher pilot isn't shooting for another several months, meaning it's not airing for another year at least. But while we wait, Rogen has offered us a little clue about what to expect.
Rogen tweeted a stack of films that he says inspired Preacher, which he plans to write and possibly direct with Evan Goldberg. See the Seth Rogen Preacher inspirations after the jump. 
Here are the cinematic inspirations for Preacher. It's a very diverse mix of influences, and while we'll have to wait and see how they come together they certainly seem like a good place to start.
Enough of this bullshit. Time to make #Preacher.

— Seth Rogen (@Sethrogen) January 15, 2015
Some inspiration for #Preacher: pic.twitter.com/KhncgxSDkK

— Seth Rogen (@Sethrogen) January 15, 2015
There are lots of Westerns (mostly starring Clint Eastwood), which makes sense given the setting of the film. The inclusion of The Raid, Kill Bill Volume 1, and I Saw the Devil suggests we're in for some bloody beautiful violence. Friday Night Lights and Short Term 12 suggest an understated grittiness. And Terrence Malick's Badlands and Tree of Life point at visual sense of poetry.
Preacher was in development for a long time as a movie before it got reworked as a TV series. AMC gave Preacher a pilot order last month. Rogen and Goldberg scripted and are likely to direct, with shooting planned for summer 2015. No casting has been announced at this point.
Although Preacher seems like a change of pace for Rogen and Goldberg, who are more often associated with goofy comedies, the pair professed to being fans of the original comic book series by Garth Ennis and Steve Dillon:
'Preacher' has been our favorite comic since it first came out. Garth Ennis is one of our idols and it's an incredible honor to be working on this. We promise we won't make too many dick jokes and ruin it.
Here's the synopsis from AMC:
Preacher follows Reverend Jesse Custer, a tough Texas preacher who has lost his faith, has learned that God has left Heaven and abandoned His responsibilities. He finds himself the only person capable of tracking God down, demanding answers, and making Him answer for His dereliction of duty. Accompanying Jesse on his journey is his former girlfriend and a friendly vampire who seems to prefer a pint in the pub to the blood of the innocent. On his tail is one of the most iconic bad guys in print – an immortal, unstoppable killing machine named the Saint of Killers – a western lone gunman archetype whose sole purpose is to hunt and kill Jesse.