Tom Hardy Is Out Of 'Suicide Squad,' Jake Gyllenhaal Won't Replace Him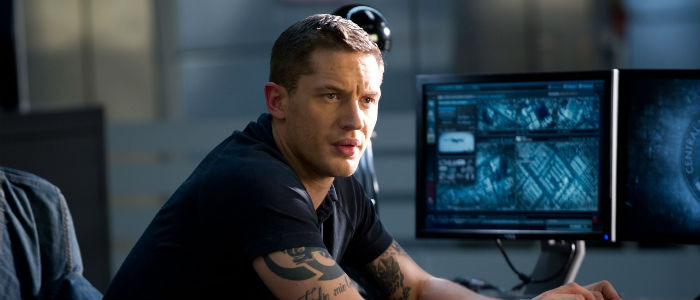 UPDATE: Jake Gyllenhaal has passed on Suicide Squad. Original story follows with update below.
That Suicide Squad cast just got a hair less impressive. Tom Hardy has dropped out of the film, leaving his role as leader Rick Flagg up for grabs. The Mad Max and Inception actor was set to co-star with Will Smith, Margot Robbie, Jared Leto, Jai Courtney and Cara Delevingne in the DC Comics adaptation, written and directed by David Ayer.
Despite Hardy's exit, everything on the film is still on schedule. It'll shoot this Spring aimed at an August 5, 2016 release date. Still, a replacement for Hardy is needed, and fast. In a very cool twist of events, apparently Ayer is looking at Jake Gyllenhaal to replace Hardy. Read more about the Jake Gyllenhall Tom Hardy Suicide Squad news below.
The Hollywood Reporter broke the Hardy news and The Wrap broked the Gyllenhall news.
The Wrap says the reason for Hardy dropping Suicide Squad is the film he's shooting, The Revenant, is going over schedule into mid-March. Once he's done with that, he'll have to promote the summer release of Mad Max: Fury Road. Suicide Squad is expected to shoot in April, so he won't be able to fit it in.
Gyllenhaal isn't signed for the film yet, but would obviously be a great replacement if everything works out.. He and Ayer worked together on End of Watch and in recent years, Gyllenhaal has become even more of a diverse, exciting actor. His performance in Nightcrawler was grossly snubbed during this year's awards season. Next, he'll be seen totally transformed in the boxing movie, Southpaw.
The idea of Tom Hardy in another superhero movie — with his face showing this time — was incredibly awesome, but the potential of Gyllenhaal replacing him almost better. It's just another nod at the fact this Suicide Squad script must be incredibly good to attract this A+ List cast for a villain driven superhero film.
Are you disappointed Hardy is out? Is Gyllenhaal the right guy for the job? Who else could play Rick Flagg?
UPDATE: 1/21/15:  Variety reports that Jake Gyllenhaal has passed on the role. It makes sense as he just started a role on Broadway and probably wouldn't have the time to jump directly into this movie, which starts shooting in the Spring. When there's more information, we'll let you know.