Michael Keaton In Talks For McDonald's Origin Story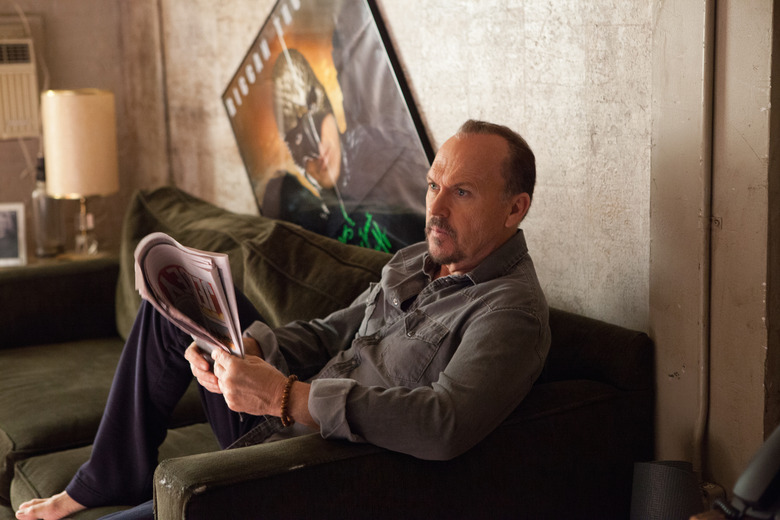 Golden Globe winner and (as of this morning) Academy Award nominee Michael Keaton may have found his next big role. Keaton is looking to lead The Founder, a Social Network-esque drama about the rise of American fast food empire McDonald's. John Lee Hancock (The Blind Side, Saving Mr. Banks) is directing.
More details on the Michael Keaton McDonalds movie casting after the jump.
According to THR, Keaton is now in negotiations for The Founder after meeting with Hancock and receiving a formal offer earlier this week. Keaton had been interested in the role since last year, but was waiting to see who would direct. Previously, Hancock's Saving Mr. Banks star Tom Hanks was approached to star but decided to pass.
If a deal closes, Keaton will play Ray Kroc, a salesman from Illinois who met original McDonald's founders Mac and Dick McDonald in 1950s Southern California. Impressed by the brothers' efficient burger-making system, he opened up his own McDonald's location in 1955.
Kroc eventually maneuvered himself into a prime position at the company, but frequently butted heads with the McDonalds. In 1961, he bought the company out from under them for $2.7 million. From there, he was able to construct a billion-dollar empire. By the 1970s, McDonald's had reached all 50 U.S. states.
The script by Robert Siegel is described as being in the vein of The Social Network and There Will Be Blood. Siegel's earlier credits include Big Fan, The Wrestler and Turbo. The Founder will be produced by FilmNation and The Combine, which is run by Jeremy Renner and Don Handfield.
Keaton is currently enjoying a career resurgence after a quiet period in the '00s. He's earned some of the best reviews of his professional life for Birdman, and will next be seen in Thomas McCarthy's Catholic Church sex scandal drama Spotlight. In addition, he is in talks to join the King Kong prequel Kong: Skull Island with Tom Hiddleston and J.K. Simmons.