Exclusive 'John Wick' Clip: Keanu Reeves And Adrianne Palicki Work Out A Fight Scene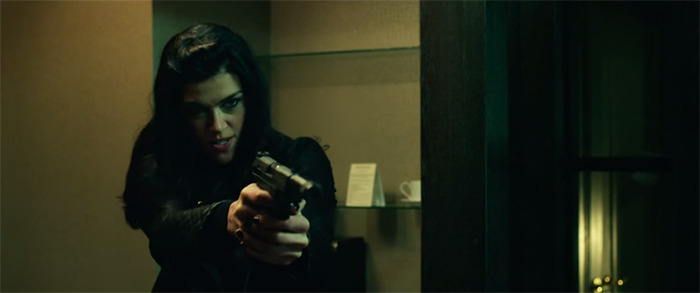 There's some killer action in the Keanu Reeves film John Wick, in which Reeves plays a former assassin who gets back into his old mode after everything else in his life is torn away. At one point, the character ends up in a sort of safe haven for killers, where he runs across a killer named Perkins. Trouble is, Perkins, played by Adrianne Palicki, knows other people want Wick dead. And so they fight!
The film is available via digital release now, and we've got a great behind the scenes clip showing some of the John Wick fight choreography. Watch the breakdown of this fight scene below.
Here's a clip of the scene being shot in that footage above.
John Wick is available on digital platforms now, and will be on Blu-ray and DVD on February 3. Here are the specs on the release — except where noted, this is the rundown for special features on both the disc and digital release.Action icon Keanu Reeves (47 Ronin, The Matrix trilogy) stars as John Wick, the ultimate hitman, in the heart-pounding revenge thriller John Wick, arriving on Digital HD January 13 from Summit Entertainment, a LIONSGATE Company. Certified Fresh by Rotten Tomatoes, the film will also be available on Blu-ray Combo Pack (plus DVD and Digital HD), DVD (plus Digital) and On Demand February 3.  Directed by Chad Stahelski and produced by David Leitch, p.g.a., masters of Hollywood action, and written by Derek Kolstad, John Wick's legendary cast also includes Michael Nyqvist (Mission Impossible: Ghost Protocol), Alfie Allen (HBO's "Game of Thrones," Atonement), Adrianne Palicki (TV's "Friday Night Lights," G.I. Joe: Retaliation), Bridget Moynahan (TV's "Blue Bloods," I, Robot) and Dean Winters (HBO's "Oz," TV's "Rescue Me"), along with Ian McShane (Pirates of the Caribbean: On Stranger Tides, HBO's "Deadwood"), John Leguizamo (The Lincoln Lawyer, Gamer) and Willem Dafoe (Spider-Man trilogy, The Grand Budapest Hotel).When sadistic young thugs senselessly attack John Wick – a brilliantly lethal ex-assassin – they have no idea that they've just awakened the boogeyman.  With New York City as his bullet-riddled playground, Wick embarks on a merciless rampage, hunting down his adversaries with the skill and ruthlessness that made him an underworld legend.The Blu-ray and Digital HD bonus materials include six exclusive featurettes that take a detailed look at different aspects of the film including the intense stunts, incredible action sequences, the stylized look and locale of the film, establishing the world of John Wick and a discussion with director Chad Stahelski and producer David Leitch on how they made this action film their way. The Blu-ray also includes an audio commentary with the filmmakers. The Blu-ray is encoded in Dolby TrueHD and features a Dolby Atmos® soundtrack, remixed specifically for the home theater environment. Dolby Atmos** delivers captivating sound that places and moves audio anywhere in the room, including overhead, to bring entertainment alive all around the audience. The John Wick Blu-ray and DVD will be available for the suggested retail price of $39.99 and $29.95, respectively.BLU-RAY/DIGITAL HD SPECIAL FEATURES*·       "Don't F*#% With John Wick" featurette·       "Calling in the Cavalry" featurette·       "Destiny of a Collective" featurette·       "Assassin's Code" featurette·       "Red Circle" featurette·       "NYC Noir" featurette·       Audio Commentary with Filmmakers Chad Stahelski and David Leitch (Blu-ray Exclusive)