'Community' Season 6 Sets Premiere Date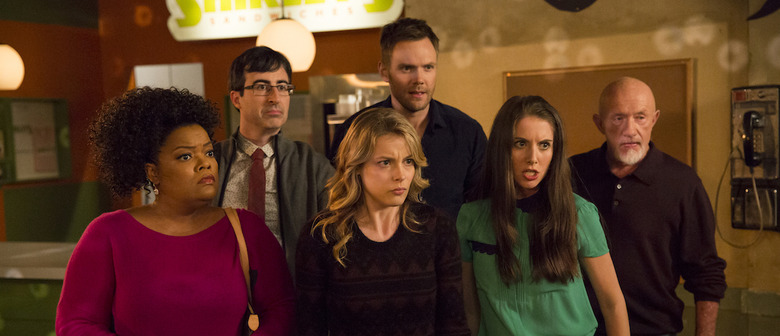 Glendale Community College will be back in session this spring. Yahoo has just set a date for Community Season 6, which will consist of 13 episodes. Watch the Community Season 6 premiere date announcement after the jump. 
Yahoo confirmed during today's TCA press tour panel that Community's sixth season will kick off Tuesday, March 17 with two new episodes. Each subsequent Tuesday will bring another new episode.
Stars Joel McHale, Gillian Jacobs, Danny Pudi, Alison Brie, Jim Rash, Ken Jeong are all returning for the new season. Joining the original cast are Paget Brewster and Keith David. She'll play Francesca "Frankie" Dart, a consultant hired to improve Greendale, while he'll play Elroy Patashnik, a retired scientist.
Yahoo picked up Community last June, weeks after NBC cancelled the cult comedy. In between, several other companies expressed interest including Esquire, Hulu, and Crackle. Yahoo closed the deal on the very day the cast options were scheduled to expire.
Of course, as any Community can tell you, that wasn't the first time the show had run into a rough patch. The sitcom struggled with ratings and behind-the-scenes drama from the get-go and seemed perpetually on the brink of cancellation.
Series creator Dan Harmon was fired after Season 3, and Season 4 forged ahead with new showrunners Moses Port and David Guarascio. Harmon was then re-hired before Season 5. Meanwhile, star Chevy Chase left the show during Season 4, followed by Donald Glover during Season 5 and Yvette Nicole Brown after Season 5.
Given all that, it seems like a hard-won miracle that Community has fulfilled the first half of that "six seasons and a movie" mantra. Now there's only the movie to go. So far, there hasn't been much talk of a big-screen Community sequel — but at this point, maybe it's actually smarter not to bet against the scrappy little series that could.
Watch the cast announce the Community Season 6 premiere date below.