How A Facebook Comment Led To Edgar Wright's Upcoming 'Grasshopper Jungle'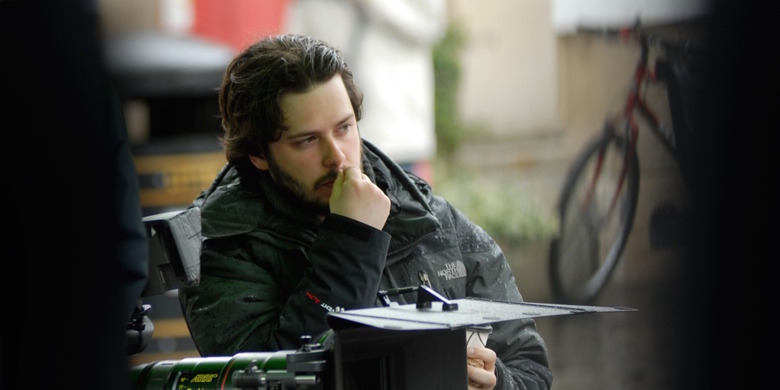 Edgar Wright is set to make Baby Driver for his next project, but his next film beyond that is an adaptation of Andrew Smith's YA novel Grasshopper Jungle. It's a doozy of a tale: at the center is a teenager who accidentally unleashes a plague of hungry, horny, six-foot-tall preying mantises on the world.
The material sounds right up Wright's alley, with its mix of sci-fi, humor, and heart. But how did Wright even find his way to such a strange story to begin with? Apparently, it all comes down to Facebook. More about the Edgar Wright Grasshopper Jungle Facebook connection after the jump. 
Wright explained how he got involved with Grasshopper Jungle in a conversation with Vulture:
I'll tell you what, here's what genuinely happened. On Facebook, somebody whom I don't really know that well said, 'Edgar Wright, you have to make a movie of Grasshopper Jungle.' And then underneath, Matt Tolmach — who had the rights to it — wrote, 'I agree.' And then Andrew Smith said, 'I also agree!' So I emailed Matt and said, 'Send me this book.'
But before you run to Wright's Facebook to tell him what else you think he should direct, keep in mind that Grasshopper Jungle didn't come completely out of the blue for Wright. He added:
What's weird is that I'd actually read an Entertainment Weekly review of it on a plane, and they gave it an A-minus, and I remember thinking, Oh, that sounds like my cup of tea. I must get that book. And I promptly forgot about it until this Facebook thing came up. There'd never been this much pressure to love a book, but even ten pages into it, I thought, This is great.
Like seemingly all YA novels, Grasshopper Jungle has a love triangle at its heart — but even then it's a bit different from the relationships you've seen in other YA franchises. The protagonist, Austin, is caught between his love for his girlfriend and his love for his male best friend.
Though the movie industry can be skittish about non-hetero romance, Wright assured Vulture that Austin's budding bisexuality would remain intact. "That's kind of a deal-breaker, right?" he said. "If you took something like that out, the fans of the book would be in an uproar."
The only downside to all this Grasshopper Jungle news is that the project is a ways off still. Baby Driver hasn't even started shooting and Grasshopper Jungle will move sometime after that. Wright typically puts out a new movie about every 3 years, so at that rate we probably won't see Grasshopper Jungle until 2019 or so.