Woody Allen Heads To Amazon For His First-Ever TV Series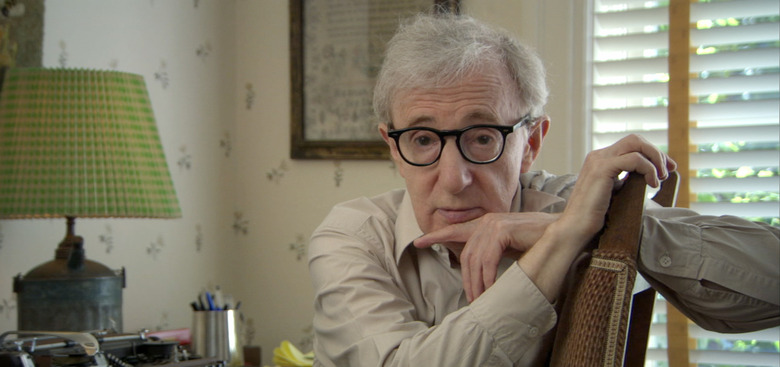 Add Woody Allen to the long, long list of big-name filmmakers heading to the small screen. Allen is set to write and direct his first-ever TV series, which will stream on Amazon Prime Instant Video. Few details have been revealed at this time, but find out what we do know about the Woody Allen Amazon project after the jump.
Amazon Studios announced the new show today. The currently untitled series has already been picked up for a full season of half-hour episodes. The show will be available exclusively on Prime Instant Video in the U.S., the U.K. and Germany. Story and casting details are being kept under wraps.
In a statement (via Yahoo), Roy Price, VP of Amazon Studios, said nice things about Allen:
Woody Allen is a visionary creator who has made some of the greatest films of all-time, and it's an honor to be working with him on his first television series. From Annie Hall to Blue Jasmine, Woody has been at the creative forefront of American cinema and we couldn't be more excited to premiere his first TV series exclusively on Prime Instant Video next year.
Allen weighed in with his own very Woody Allen-y comments. "I don't know how I got into this," he said. "I have no ideas and I'm not sure where to begin. My guess is that Roy Price will regret this."
The Untitled Woody Allen Project should help Amazon in its bid to become a worthy contender to the likes of Netflix. Amazon Studios' push into original programming got off to a so-so start, but it finally struck gold with Transparent, which picked up two awards at this Sunday's Golden Globe Awards ceremony.
Allen is currently putting the finishing touches on an untitled film starring Emma Stone and Joaquin Phoenix. No release date has been specified for the Woody Allen Amazon series, but it looks likely to land sometime in 2016. Could that mean next year will be the first without a Woody Allen movie since the early '80s?