Kyle MacLachlan Returns To 'Twin Peaks' As Special Agent Dale Cooper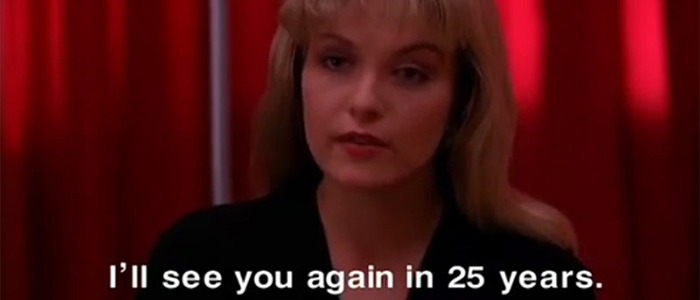 He's back! Special Agent Cooper returns in 2016 as Kyle MacLachlan will reprise his Twin Peaks role when the show returns to television for a third season on Showtime. MacLachlan's return had been assumed when the third season was announced, but not confirmed until now. It was, after all, his character's dream, pictured above, that helped lead to the very idea of the series' return. In addition, the Showtime TCA panel provided confirmation (which we didn't really need, but it's nice to have) that David Lynch will direct all nine new episodes of the show.
EW reports from the TCAs, saying that MacLachlan took the stage, and "handed a "damn good cup of coffee" to Showtime president David Nevins."
The exec said that Lynch and series co-creator Mark Frost have been "very specific in promising closure" as they work on the scripts for this return. "From what I've seen," he added, "I think this going to live up to expectations—and then some."
And while original network home ABC was somewhat controlling with respect to Peaks, Showtime will be more hands off. Nevins says he's "more or less writing checks and leaving them alone. It's David's show. It's Mark's show. I will be the grateful recipient of it.
MacLachlan said,
I'm very excited to return to the strange and wonderful world of Twin Peaks. May the forest be with you.
Along with that was the confirmation that Lynch would direct the entire third season. That was the implication when this revival was announced, but it's good to have it stated outright. (He only directed six hours of the original thirty in the show's first two seasons.)
No other cast members were confirmed to return, though with Cooper making his comeback it is safe to expect Lynch to reprise the role of Gordon Cole, and we can realistically also hope to see Miguel Ferrer as Albert.
Here's Mark Frost, as excited as we are: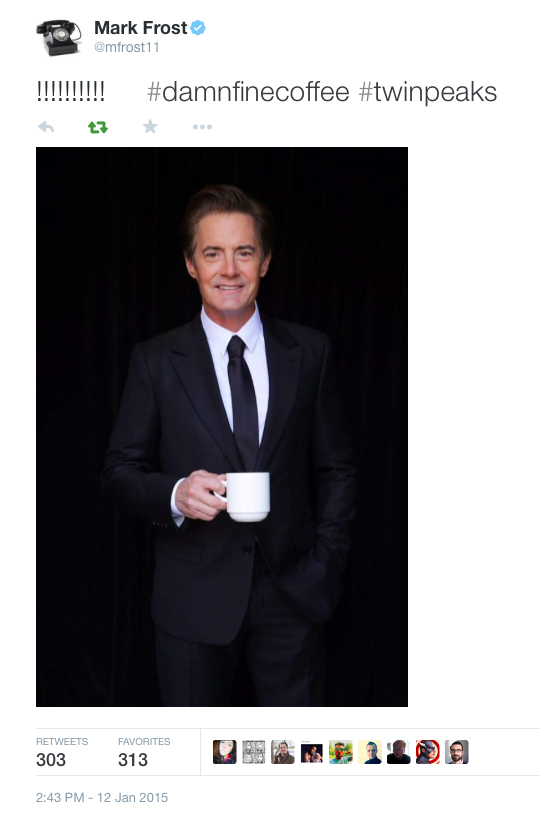 And a larger version of that pic: