Back To The Future Part 2 Concept Art: Unused 2015 Future Tech Revealed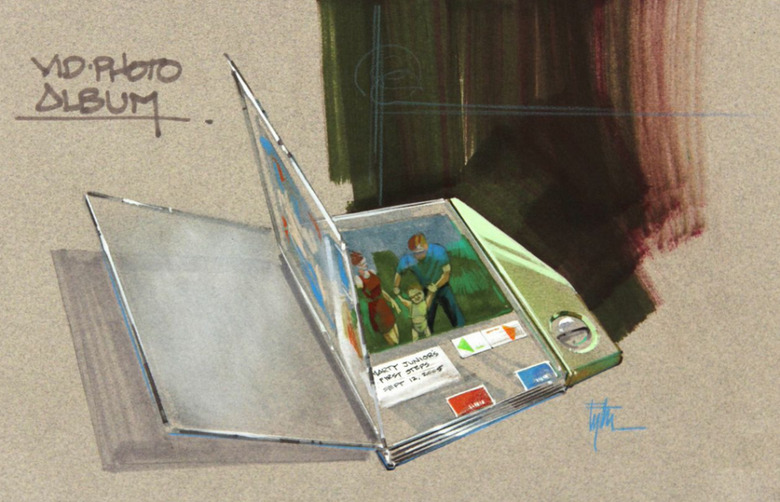 This is a story for anyone sick of all the recent Back to the Future Part II posts. Unless you've been sleeping under a rock, you know that we're now in the year that Marty McFly goes to as "The Future" in the 1989 sequel. And, of course, lots of things Robert Zemeckis and his team imagined in the film – hoverboards, flying cars, self-tying laces – are not yet real. But did you know those were only the beginning of how deep the film originally went with new technology?
Several pieces of Back to the Future 2 concept art have now been revealed that was created for the film but not actually used. More 2015 technology like a security droid, Robonanny, Compu-vend Kiosk and much more. Check out the Back to the Future 2 concept art below.
Newsweek, who did an interview with two of the concept artists for the film, Tim Flattery and Edward Eyth, first uncovered these images. Some also come fromEyth's site, with a hat tip to Movies.com. Head to both those links for more, but here are some of our favorite pieces of unused Back to the Future 2 concept art.
Back to the Future 2 concept art
There are some super cool ideas in there. I love the idea of the watch that keeps folding out (though we arguably have sometime kind of similar with the iWatch). The Robonanny is funny and the other robots to help around the house, all very cool. Eyth also did some more detail drawings of the contraption old George McFly uses on his back.
If you head to the Newsweek article, it's funny to find out that though the Internet was very, very ready for 2015 and Back to the Future Part II, these designers were not. "I totally forgot that it took place in 2015," Flattery told the online magazine. "And once I started seeing all the stuff on the Internet about it, I went, 'Oh yeah, of course!'"
I'd expect, as we get deeper in to the year and close to October, the date in the film, you'll see much more about Back to the Future Part II. For now, what do you think of the Back to the Future 2 concept art?