There's A Good Reason Why 'Goonies 2' Hasn't Happened Yet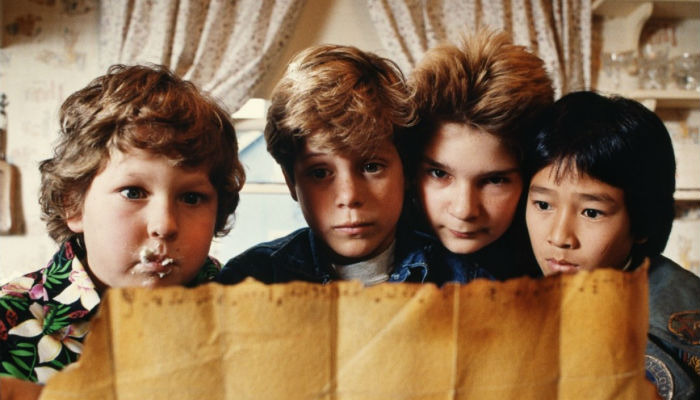 When the director of a movie says it's going to happen, you generally believe it's going to happen. That's what occurred last spring with Richard Donner, director of The Goonies, said "We're doing a sequel." That was news to some of the film's stars, like Sean Astin and Corey Feldman. Astin seemed confident the film would happen, but had a more specific update that producers were looking for writers based on a solid outline.
If that's the case, that's as far as things have gone though. Producer Frank Marshall recently said there is no script at all, but talks have happened. Read The Goonies 2 script update below.
Marshall was talking to Collider and Nerd Report when he said the following about The Goonies 2 script:
[The Goonies 2] in discussion. [Donner's] talked to us about it, and we've talked to him.  It's all about the story.  We don't just do sequels to do them.  The story has to be there.  
The producer then confirmed that there is not a script and they're still looking for ideas, which is the opposite what Astin said a few months back.
You don't want to disappoint the fans by just doing a schlocky movie.  You want to do a real legitimate movie.  It's not going to be a sequel. In the Amblin spirit of Goonies, that's what has to be.
We're not quite sure what he means by "it's not going to be a sequel." Does that mean, they're more looking at a Goonies reboot than a Goonies 2? Something new in the "Amblin spirit" of the original rather than a continuation of the story? That would suck. The only reason to make The Goonies 2 is to see what happened with those characters years later. If you want to make a new movie in the Amblin spirit, do that, but don't associate it with The Goonies.
Either way, it's mind blowing to hear there isn't a single sequel idea out there worth pursing after thirty years. I myself read a great fan-written Goonies 2 script that picked up immediately after the first film. A huge action scene breaks out with wannabe treasure hunters going after One-Eyed Willy's ship. It then cuts 30 years ahead with the Goonies all grown up. The Fratellis finally get out of prison and come after them and their kids.
Also of note, a story broke a few months back that Chris Columbus was attached to write the film, but Marshall's update seems to again contradict that. It's hard to figure out who to believe but, at the moment, a lack of script is why Goonies 2 hasn't happened yet.