How The Golden Globes Became Relevant: A Guide To The 2015 Winners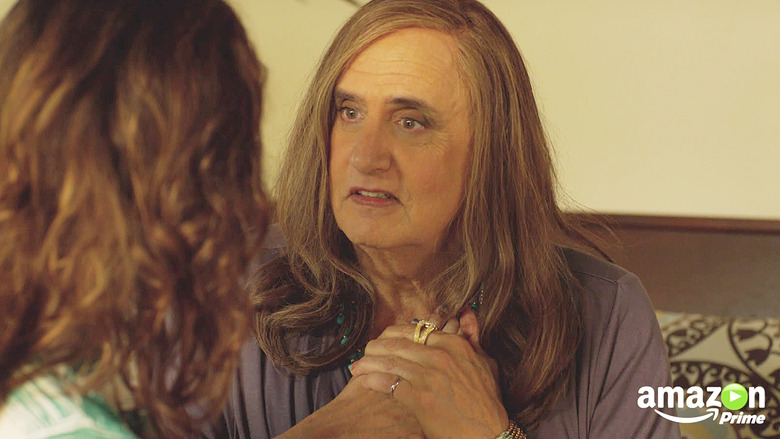 We may receive a commission on purchases made from links.
What just happened? For years we've mocked the Golden Globes as a joke, a drunken farce that leads into the last few weeks of Awards Season before the Oscars. The show is basically one last hootenanny, like New Years Eve for celebrities, before the Important Awards sweep in to codify all that is good and worthwhile from the previous calendar year. (Note: no awards actually codify anything.)
But something happened in 2015. The Golden Globes, especially when it came to awards for TV, did not appear to be decided entirely by self-congratulatory voters more interested in getting loaded with celebrities than in the actual films and shows. The film winners were almost entirely independents, and the TV winners were diverse both in who they represent, and the ways in which those stories are getting to audiences. A big win for Amazon's Transparent isn't just unexpected; it is a great step forward.
Now, instead of bringing attention to stuff like The Tourist, the Golden Globes suddenly look almost progressive. The problem is that some of the 2015 awards winners are still things audiences haven't seen, for a variety of reasons. So here's a guide to some of the lesser-known achievements the Globes highlighted this year.
The TV Awards
We'll skip discussion of a couple of the winners such as Downton Abbey, Fargo, and House of Cards. You probably know what those are by now; even if you haven't seen either one, both shows are recognizable enough at this point that their profiles are well established.
But some of the other winners are part of our evolving understanding of what TV can be, and in that sense they're really interesting.
Jane the Virgin
Based on a Venezuelan telenovella, the show features a great central performance from young Gina Rodriguez (who won for Best Lead Actress in a Comedy or Musical) as a devout virgin who is artificially inseminated by mistake, and agrees to act as surrogate mother for the couple whose child she bears. The show's first season hasn't even finished yet — there are three more episodes to go — but the performance from Rodriguez is more than enough to recommend it.
And while the Globes featured a few dumb jokes and embarrassing asides, Rodriguez's acceptance speech was significant for many. She said, "This award is so much more than myself. It represents a culture that wants to see themselves as heroes."
She had previously explained choosing this role over a part in the series Devious Maids:
...every role that I've chosen has been ones that I think are going to push forward the idea of my culture, of women, of beauty, my idea of liberating young girls, of feeling that they have to look at a specific beauty type. And I wasn't going to let my introduction to the world be one of a story that I think has been told many times.  I wanted it to be a story that was going to liberate young girls and say, 'Wow, there we are too, and we're the doctors, and we're the teachers, and we're the writers, and we're the lawyers, and I can do that too. And I don't have to be a perfect size zero. I can be a perfect size me.' And that's what I live. So Jane, I waited for her patiently. And now she's here. And thank you for being here with us. Because this is a dream come true to me.
Incidentally, this show is one of a few winners on the TV side that isn't available only via a subscription-based service or channel. (The others being Fargo and Downton Abbey.)
Transparent
You'll need an Amazon Prime membership to watch this Amazon Studios series, which is kind of a shame as the show is among the year's standouts. (Anyone can watch the first episode for free; the ten-episode season is streaming at Prime now.)
Created by Jill Soloway (Afternoon Delight, Six Feet Under), the show features Jeffrey Tambor as Maura Pfefferman, who for most of his life was known as Morton to his family. When Maura reveals that she has spent her whole life feeling like she was dressing up as a man, secrets start to surface from all corners of the family. Widely hailed as among the best new shows of the year, and for good reason, Transparent supports the idea of a definitive change for the business and broadcast of "television." It's a well-made show with a great cast that tells a story we need to see, and which we would never see on mainstream TV. It's not an Emmy, but the win for this show helps push it to a higher level of awareness, which is great.    
***
The Affair
It is next to impossible to be comprehensive in television viewing now, and we have to admit that we're out in the cold on The Affair, too. The win for this show, in the Best TV Drama and Best Lead Actress in a TV Drama for Ruth Wilson, came as a surprise. But we'll take it as encouragement to give a long look to the Showtime series.
The series follows an affair between characters played by Wilson and Dominic West after the two meet in Montauk, and also focuses on the many and varied ramifications of their dalliance. The storytelling is fractured and based in the divergent perspectives of each character; it has been compared to Rashomon for fairly obvious reasons.
Showtime recently renewed The Affair for a second season, which will premiere later this year.
The Honourable Woman
Originally broadcast on the BBC in the UK, this ambitious miniseries came to the States via SundanceTV. (The two companies co-produced the show.) Maggie Gyllenhaal, who won for Best Actress in a TV Miniseries or Movie, stars in the eight-episode show as "an Anglo-Israeli businesswoman" who heads up her family company, and whose personal principles and standards are severely tested as she navigates the political and economic space between Isreal and Palestine.
That's part of it, at least. In fact, the show is fairly difficult to sum up in any sort of brief, especially without giving things away. Strongly character-oriented and with a plot deeply researched and tangled enough to intrigue those hungry for the experience of an enthralling political novel, the show is anchored by a terrific performance from Gyllenhaal. There is a tendency to go heavy on the thematic development, but with performances like Gyllenhaal's lead work, that's hardly a deal-breaker.
***
The Movies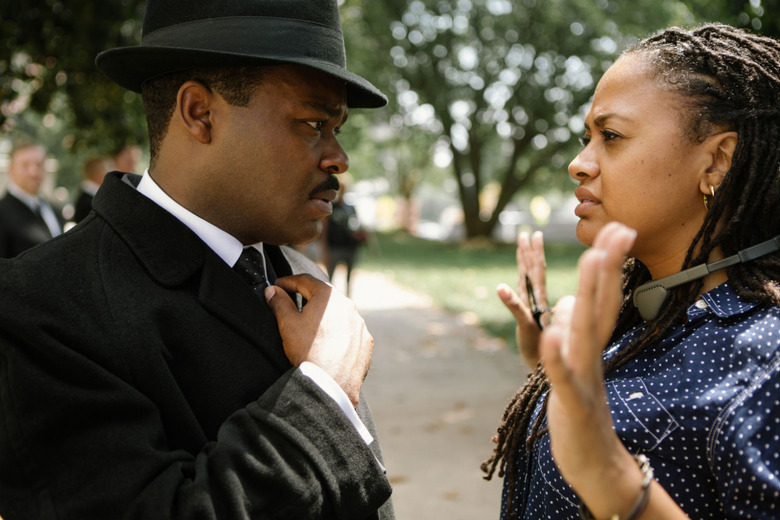 If you're reading /Film you probably don't need any deeper familiarity with the Golden Globes winners in 2015, but just for the sake of completion we'll run through some of them. The biggest happy surprise at this incarnation of the Globes was that every film that took home an award, with the exception of one, was produced as an independent. (The lone outlier was How to Train Your Dragon 2, which was also one of this year's few truly head-scratching awards.) The Golden Globes are more indie-friendly than many other awards setups; the 2008 and 2012 awards were largely dominated by indie winners. But it's still a nice crop to see on a major TV awards event.
Leviathan
The best foreign film award went to this story that takes on the Book of Job and emerges with a portrait of masculinity in modern-day Russia and a readiness to tackle issues of corruption and the imposing and crushing effect of a brutal bureaucracy. Leviathan starts off seeming small and fairly contained, but expands to intimidating scope. (Leviathan is available to rent or purchase digitally through sources such as iTunes, YouTube, and Amazon.)
Still Alice
In this adaptation of the novel by Lisa Genova, Julianne Moore plays a linguistics professor who is diagnosed with early onset Alzheimer's disease, and the film follows her attempt to maintain identity and stability in all facets of her life while dealing with the losses that come with her illness. While Still Alice isn't a great film, it has been the subject of quite a bit of talk about the performance from Julianne Moore that anchors the movie. And, yeah, her work here is one of those performances that is very much worth watching despite the fact that the rest of the film doesn't rise to her level.
Selma
Ava DuVernay's film was short-changed when it comes to awards, taking home only the Best Original Song trophy. Should David Oyelowo have taken Best Actor over Eddie Redmayne? Almost certainly, yes, because his performance is crucial to this film's delicate and humanistic portrayal of a Civil Rights icon. Oyelowo and DuVernay sidestep the limitations of the biopic by focusing on just one part of Martin Luther King's life. The result is a powerful and incredibly effective film that demand to be part of our ongoing conversations about the American social fabic.
***
So what does it all mean? Depends on your perspective. The Golden Globes are voted upon by a body of about 90 people, none of whom are members of the Academy. So if you're looking for Oscar connectivity, forget it.
But a lot more people now know about Transparent and Jane the Virgin than did twenty-four hours ago. That's a plus. The wins for female-driven work, both on TV and in film, is a win. The fact that Selma lost out in big categories but took home at least one award is a win.
This is the awards show that was little more than a joke a couple days ago, so we can't expect it to become a standard-bearer for progress and diversity in one fell swoop. But here we see honors for perspectives that previously might have been overlooked, and as Maggie Gyllenhaal said, "what I think is new is the wealth of roles for actual women in television and in film." (And, thanks to Transparent, for trans actors and writers, even with the fact that the show's lead role is played by the cis-gendered Tambor.) There could be many more of those roles, both in front of and behind the camera, but this sort of recognition could be a step towards making that a reality.