'House Of Cards' Season 3 Trailer: Can Frank Underwood Hold It All Together?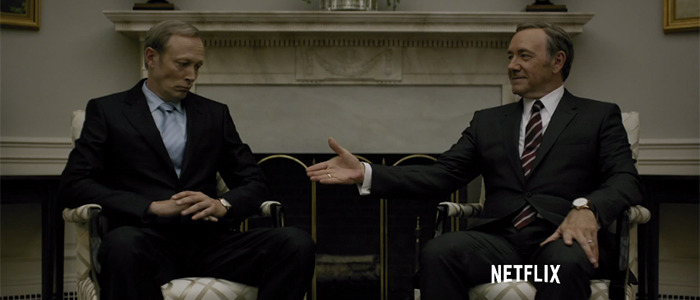 Maybe you binge-watched all of the first season, but did you watch all of Season 2 of House of Cards? Me, neither. But this House of Cards season 3 trailer might make you regret passing on the second season, if only because it is appealing enough to suggest that it would be a really good idea to catch up before late February, when the new season premieres.
Some serious stuff obviously happened in the life of Frank Underwood (Kevin Spacey) over the course of the second season, and this trailer plays on a lot of it — plus the events of season 1 — to show people in a really dark place. It looks great. Check out the House of Cards season 3 trailer after the jump.
As anchor lines go, it doesn't get much better than "we're murderers, Francis."
If the music in this trailer sounds like Nine Inch Nails to you, that's close — but it is actually from A Perfect Circle. The track is 'Counting Bodies Like Sheep (To the Rhythm of the War Drums)', mixed by frequent Nine Inch Nails accomplice Danny Lohner.
The 13 episodes of House of Cards Season 3 premiere February 27th on Netflix, which also provides this trailer.
As far as a description for this season, all we've got from official channels right now is:
When the stakes are this high, Frank and Claire Underwood have but one option: fight to stay on top.