These Actors Are Testing For Jean, Cyclops And Storm In 'X-Men Apocalypse'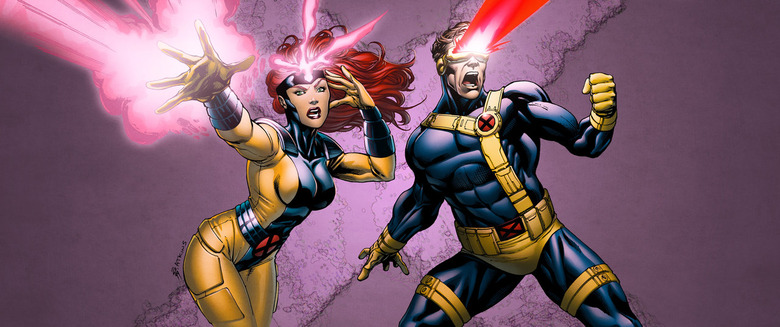 Bryan Singer is preparing to shoot the next X-Men movie, X-Men Apocalypse, which takes place after Days of Future Past. That means the younger First Class cast will be around, but a new generation of X-Men — the generation which is already grown in the original series of films — has to come on board. Specifically, that means the characters Jean Grey, Cyclops and Storm, played by Famke Janssen, James Marsden and Halle Berry in the previous movies.
We'd heard rumblings of some major actresses being up for the Jean Grey role but they've all moved on. Now there's a new crop of actors not only up for Jean Grey, but Cyclops and Storm as well. Find out who might join the X-Men Apocalypse cast below.
Latino Review dropped the news, which goes as follows.
For Cyclops, the latest actors in contention are Taron Edgerton, Jamie Blackley, and Tye Sheridan.
For Jean Grey, they're are Sophie Turner and Saoirse Ronan.
And for Storm, actresses Alexandra Shipp and  Zendaya Coleman are up for the role.
Following that report, Jeff Sneider of The Wrap said he's heard Sheridan is the front runner for Cyclops. Previous suggestions for other roles, Chloe Moretz, Elle Fanning and Hailee Steinfeld, have all either passed or moved onto other projects.
Honestly, I'm cool with any of these names. They're all really good young talents. I think the two biggest question marks are whether or not Kingsman makes Taron Edgerton into a household name, and if Game of Thrones is already too much of a workload for Sophie Turner. I'm guessing those answers are "no" and "no."
Either way, this decision should be made in the coming weeks because filming is set to start in the Spring up in Canada. Oscar Isaac, so far, is the only other major actor that has been cast.
X-Men Apocalypse will return Jennifer Lawrence, Michael Fassbender, James McAvoy and others. It opens May 27, 2016