Netflix Is Unsure Of Marvel Series Release Dates After 'Daredevil'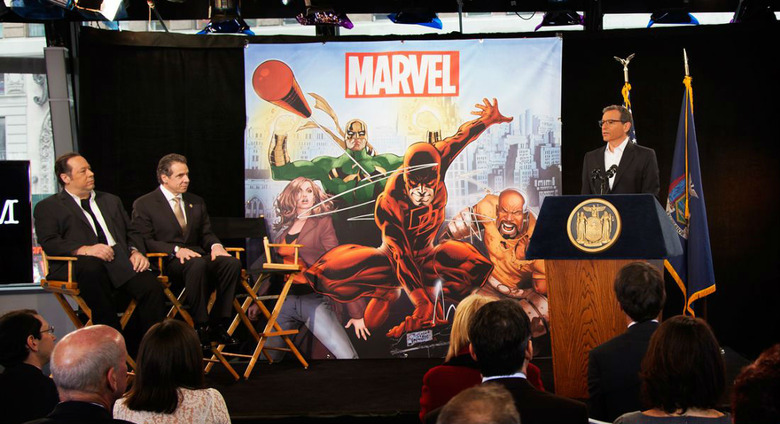 Marvel's first Netflix show, Daredevil, will show up on the service April 10. And Marvel just cast Krysten Ritter as Jessica Jones for AKA Jessica Jones and Mike Colter as Luke Cage. That may sound like those two shows are coming soon. Plus, there was a rumor that Jessica Jones would be out by the end of 2015. Unfortunately, the Chief Content Officer of Netfix, Ted Sarandos, doused those dreams a bit when he said audiences should expect new Marvel shows about a year apart.
Sarandos has since eased up on that window a bit but it sounds like you shouldn't rush through Daredevil too fast because the wait could be long before we get to the final shows. Read more about the potential Marvel Netflix series release dates below.
Sarandos was talking to IGN and was asked to clarify his comments on the possible Marvel Netflix series release dates
You should think of it about as roughly a year. Some will roll in as early as eight months and others in 15 months apart, and basically what it is is we're not trying to meet a fall programming schedule or trying to hit a grid number, so really we want to give the shows enough time.
He continued with more specifics:
Jessica Jones hasn't started production yet, so a lot happens from the first day on the set to the last day of production. So we want to give them enough room and enough time to make a great show, so I don't want to set up a rigid timetable and deliver a show every eight months or every twelve months, but you should expect them about a year apart.
If you're wondering about Luke Cage, since he's already cast, he's reportedly going to play a big role in AKA Jessica Jones before getting his own show. That's why that role has already been cast. But maybe that's more of an eight month window as opposed to a longer one. And then there's Iron Fist, which has yet to be cast, and finally The Defenders. Also, Daredevil showrunner Steven DeKnight has teased a second season of that show and we don't know how that's going to fit in.
And while the year-ish wait for each show might sound like a lot, think about this. If we're roughly looking at Daredevil in 2015, Jessica Jones in 2016, Luke Cage in 2017, Iron Fist in 2018 and then The Defenders in 2019, that would line up perfectly with the end of the end of Phase Three of the Marvel Cinematic Universe. Maybe Avengers: Infinity War Part II will have some kind of crossover with them.
What are your thoughts on the Marvel Netflix series release dates?