Frank Marshall Says "No Plans" For A 'Bourne' Crossover With Matt Damon And Jeremy Renner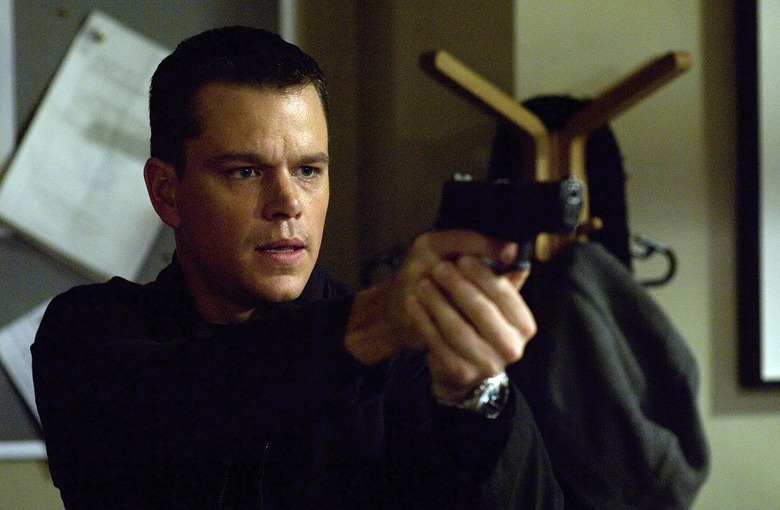 Ever since Matt Damon agreed to return for a fourth Bourne picture, we've heard rumors that the franchise would lead to a crossover between his Jason Bourne and Jeremy Renner's Aaron Cross. However, according to producer Frank Marshall, no such team-up is in the cards just yet.
But there's no need to cry for Renner. Marshall also confirms there's still room for the Bourne Legacy star going forward. Get the Frank Marshall Bourne crossover comments after the jump.
Speaking to Collider and Nerd Report, Marshall downplayed reports of a Bourne crossover featuring both Damon and Renner. "We don't have plans for that," he said. "You never know. I never say never. But that's not the plan. They're on separate tracks."
Renner replaced Damon as the lead of the Bourne series after Damon declined to return for a fourth installment without director Paul Greengrass. He made his debut as Bourne-esque agent Aaron Cross in 2012's The Bourne Legacy, which did well enough that Universal forged ahead with a sequel for 2016.
But plans for a Legacy follow-up got put on hold when Damon and Greengrass finally decided to return. The new Jason Bourne movie took over the slot that had been earmarked for the Aaron Cross sequel.
Word spread that the film series would eventually lead to a crossover that'd combine the Bourne and Cross storylines. Now Marshall's comments seem to cast those stories in doubt. But then again, even if Universal is considering such a film it's likely to be a ways off. Maybe Marshall is just keeping quiet until they have a more solid plan in place.
Either way, the producer claimed we'll see Aaron Cross again. He stated that there is still a role for Renner "in the franchise," though he did not elaborate further. He also insisted that bringing Jason Bourne back was a matter of finding the right story, not of convincing Greengrass to sign back on.
It was really the challenge of finding the story. If you look back five or six years ago, when we were maybe going on, we just didn't have a story. It's taken this long for us to come up with a story that everybody responded to. Now, we're moving forward. [...] [I]t was about both of them responding to a story idea. Now, we're off and we're going to go write the script and make it.
The new Bourne film lands in theaters July 29, 2016.