'Cop Car' Trailer: What Happens When Two Kids Steal Kevin Bacon's Cruiser?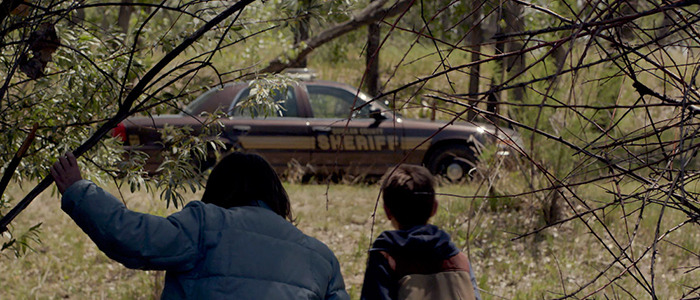 Movies don't come much more lean than Cop Car, in which two kids stumble across a seemingly abandoned sheriff's cruiser. One thing leads to another, and soon the pre-teens are off on the joyride of a lifetime. But the car wasn't abandoned, and the sheriff, who has his own problems to deal with, wants the car back.
Kevin Bacon plays the lawman with a grim squint, and the two young actors at the center, James Freedson-Jackson and Hays Wellford, are terrific in their roles, and Jon Watts directs the film with mean efficiency that had me squirming at the horrifying potential in some of the violent situations.
Check out the first Cop Car trailer below.
Oh, and be patient with the pullquotes at the head of this trailer — they're sourced from my Sundance review.
Yahoo has the trailer. Cop Car opens on August 7 and hits VOD on August 14.
Kevin Bacon (The Following, HBO's Taking Chance, Mystic River) stars in director Jon Watts' delightful throwback thriller Cop Car.  When two good-natured but rebellious young boys (James Freedson-Jackson and Hays Wellford) stumble across an abandoned cop car hidden in a secluded glade they decide to take it for a quick joyride.  Their bad decision unleashes the ire of the county sheriff (Kevin Bacon) and leads to brutal consequences.