Edward James Olmos Joins 'Marvel's Agents Of S.H.I.E.L.D'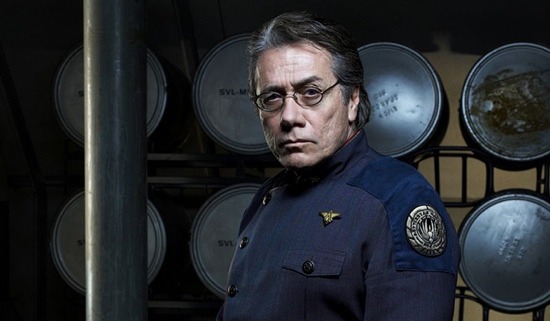 The Marvel TV Universe might still be buzzing over the premiere of Agent Carter, but don't forget her modern-day counterparts. Agents of S.H.I.E.L.D is coming back in March with a storyline that's beginning to tease at Phase Three of the Marvel Cinematic Universe. If that wasn't enough, they've just added a very recognizable sci-fi face.
Edward James Olmos, the Oscar-nominated actor best known for his starring roles on the recent Battlestar Galactica and in Blade Runner, has joined the Marvel show in a large, recurring role. Read more about the Edward James Olmos Marvel casting below.Marvel broke the news of the casting. Here's the official press release:
"Marvel's Agents of S.H.I.E.L.D." has just added another new face for its March return to ABC with Edward James Olmos!
Olmos will play Robert Gonzales, whose debut this spring in "Marvel's Agents of S.H.I.E.L.D." will have massive repercussions for Director Coulson and his team.
"Edward James Olmos brings an amazing gravitas to any role he inhabits, something we knew we needed for Robert Gonzales," said Executive Producer and Marvel's Head of Marvel Television, Jeph Loeb. "When Olmos first appears on our series, everyone will have to take notice–including our favorite Agents."
Best known for roles in "Battlestar Galactica," "Blade Runner," and "Miami Vice," Olmos twice earned the Golden Globe for Best Performance by an Actor in a Supporting Role in a Series, Mini-Series or Motion Picture Made for TV with his work on "Miami Vice" and "The Burning Season." In addition, Olmos earned an Academy Award nomination for Best Actor in a Leading Role with "Stand and Deliver."
"Marvel's Agents of S.H.I.E.L.D." is Executive Produced by Joss Whedon ("Marvel's The Avengers," "Buffy the Vampire Slayer"); Jed Whedon & Maurissa Tancharoen, ("Marvel's Agents of S.H.I.E.L.D." pilot co-writers, "Dollhouse," "Dr.Horrible's Sing-Along Blog"); Jeffrey Bell ("Angel," "Alias"); and Jeph Loeb ("Marvel's Agent Carter," "Marvel's Daredevil," "Lost").
"Marvel's Agents of S.H.I.E.L.D." is produced by Marvel Television and ABC Studios.
"Marvel's Agents of S.H.I.E.L.D." returns on Tuesday, March 3 at 9:00 p.m. ET on ABC. For more information on the series and the other exciting Marvel Television projects, stay tuned to Marvel.com.
Gonzales seems to be a character created for the show, so it's anyones guess where he allegiance lies. What do you think about Edward James Olmos joining Agents of S.H.I.E.L.D?