'Ant-Man' Trailer Fan Edit Actually Makes 'Ant-Man' Look Fun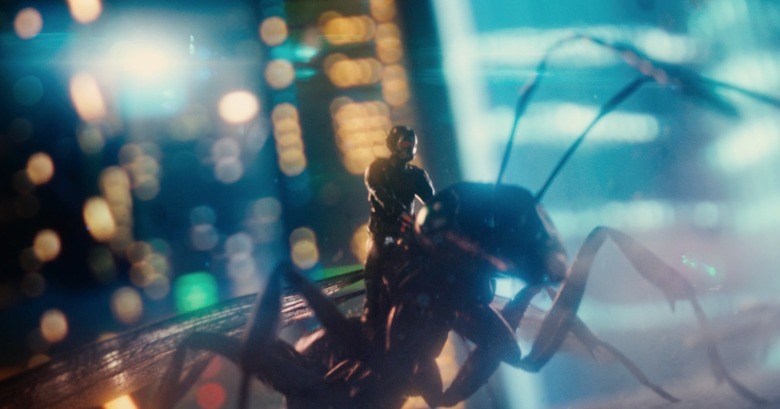 Last night, Marvel finally gave us a long-awaited first look at Ant-Man... and fan reactions were mixed, to say the least. Some were so unhappy with it, in fact, that they decided to take matters into their own hands by cutting together a different version of the Ant-Man trailer. Watch a much better Ant-Man trailer fan edit after the jump.
The Ant-Man trailer was inevitably going to come under intense scrutiny. The project ran into some behind-the-scenes trouble last year when director Edgar Wright dropped out at the last minute. The project quickly got back on track, with Peyton Reed stepping in as director and Adam McKay coming on board to help. Still, the shake-up didn't seem to bode well for the long-developing film.
But even putting the pre-production drama aside, the first Ant-Man trailer simply wasn't very exciting. It wasn't terrible, but it lacked the zip and personality of Marvel's best efforts. The voiceover (by Michael Douglas, who plays Hank Pym) set a surprisingly ponderous tone that was backed up by the generic action/epic score. When Paul Rudd's half-assed punchline finally came, it had nowhere to land.
Thankfully, in this day and age, if you don't like a trailer it's not too hard to reimagine it. And Patrick Willems did just that with his "fixed/re-edited" version. Watch it below.
For comparison, here's the original.
Willems' changes to the Ant-Man trailer are pretty minor. There are new title cards emphasizing the filmmakers' comedy backgrounds, and starting around 1:16 there's also an energetic new soundtrack. (That's 'Hold Tight' by Dave Dee, Dozy, Beaky, Mick & Tich, previously heard in Death Proof.) Which just makes Marvel's official trailer more of a head-scratcher. Why hire people like Reed and McKay and then downplay the film's humor? Why throw off the tone with Paul Rudd's "huh" if they're just going to barrel ahead with the super-serious score?
Mind you, none of this means Ant-Man will be a disaster. It's way too early to tell, and the tonal weirdness may be more of a marketing issue than a filmmaking one. But it doesn't seem like a good sign that Marvel seems to have no idea how they want to play this thing. For now, then, let's just hope the next real trailer is better than the last one was.
If you want an even bigger rehaul of the trailer, there's also this Ant-Man / Behind the Candelabra mash-up by Peter Wilson. The execution is imperfect (you just can't hide the fact that Matt Damon and Paul Rudd are two different people), but he gets points for creativity.