2015 WGA Nominations Go To 'Guardians Of The Galaxy', 'Whiplash', 'Gone Girl'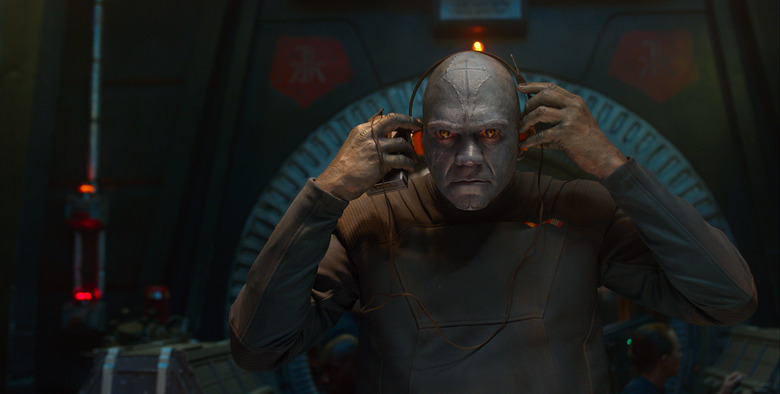 The producers, the actors, the editors, and the costume designers have already weighed in on their favorites of 2014, and today it is the writers' turn to nominate their fellows for achievements in 2014. The Writers Guild of America has announced its nominees for the 2015 awards, and they run the gamut from Boyhood to Guardians of the Galaxy. Get the full 2015 WGA nominations list after the jump. 
WGA nominations went to most of the usual suspects including The Imitation Game and The Grand Budapest Hotel. However, Birdman and The Theory of Everything were among the heavy-hitters who failed to make the cut. On the bright side, that freed up space for a few films that have otherwise been overlooked in the awards race, like Guardians of the Galaxy. They still couldn't find room for Selma or Inherent Vice, though.
In an interesting detail, Whiplash got nominated as an original screenplay but won't be eligible for the equivalent category at the Oscars. Because it was preceded by a short film intended to attract financing for a full-length feature, it'll be competing as an adapted screenplay in the Academy Awards race.
Winners of the 2015 WGA Awards will be announced Saturday, February 14.
Original ScreenplayBoyhood
Written by Richard Linklater
Foxcatcher
Written by E. Max Frye and Dan Futterman
The Grand Budapest Hotel
Screenplay by Wes Anderson; Story by Wes Anderson & Hugo Guinness
Nightcrawler
Written by Dan Gilroy
Whiplash
Written by Damien Chazelle
Adapted ScreenplayAmerican Sniper
Written by Jason Hall; Based on the book by Chris Kyle with Scott McEwen and Jim DeFelice
Gone Girl
Screenplay by Gillian Flynn; Based on her novel
Guardians of the Galaxy
Written by James Gunn and Nicole Perlman; Based on the Marvel comic by Dan Abnett and Andy Lanning
The Imitation Game
Written by Graham Moore; Based on the book Alan Turing: The Enigma by Andrew Hodges
Wild
Screenplay by Nick Hornby; Based on the book by Cheryl Strayed
Documentary ScreenplayFinding Vivian Maier
Written by John Maloof & Charlie Siskel
The Internet's Own Boy: The Story of Aaron Swartz
Written by Brian Knappenberger
Last Days in Vietnam
Written by Mark Bailey & Kevin McAlester
Red Army
Written by Gabe Polsky