Laika Auction: Over 250 Puppets, Props And More Up For Sale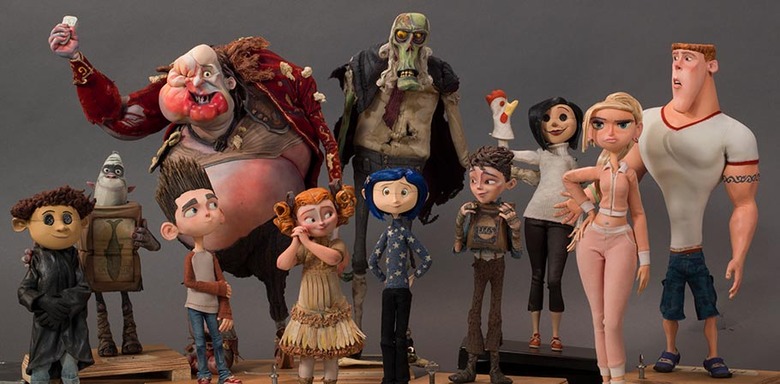 Laika has a knack for creating worlds we'd want to live in: beautifully hand-crafted, gorgeously detailed, and a tad off-kilter. And while it's unlikely we'll ever actually get to visit Cheesebridge or Blithe Hollow or Other World (since they're, y'know, fictional) we'll now have the opportunity to take a bit of those worlds home with us.
The animation studio has just announced an auction — the first in the company's history — with over 250 puppets, props, models, and art pieces up for grabs. But if you haven't got the money to buy your own Other Mother from Coraline or Mecha-Drill from Boxtrolls, fear not. Select items will go on a brief exhibition tour before they go up for sale. More details on the Laika auction, including photos and descriptions of some key offerings, after the jump.
All three Laika films to date will be represented in the auction. Some highlights include:
From Coraline:
Coraline production puppet in her iconic blue-starred sweater
The Cat production puppet
Coraline production puppet in her iconic blue-starred sweaterOther Mother production puppet in her elaborately realized black dress
From ParaNorman:
Norman production puppet in his baseball shirt outfit
Zombie Judge production puppet with fully articulated mouth and face
Intricate large-scale production props such as Mitch's Van and "Zombie Attack"
vending machine
Annie Award-winning character design originals
From The Boxtrolls:
Eggs and Boxtrolls production puppets complete with their "Box" outfits
Snatcher production puppet in his exquisite hand and laser-etched velvet jacket
Snatcher's Mecha-Drill, at over five feet, the largest prop ever created for a stop-motion film
Heritage Auctions will hold the "Art of Laika" auction on Thursday, February 12 in Beverly Hills. A portion of the proceeds will go toward The Art of Elysium, which has nothing to do with art of Elysium. Rather, it's a nonprofit organization dedicated to enriching the lives of critically ill children through art. So if you decide to fork over for your very own Zombie Judge, you can count that as your good deed for the day.
Or if you're more interested in looking at the art of Laika than buying it, a few of the pieces will be on display at the following cities on the following dates:
Dallas, TX: January 27-29 at Heritage Auctions (3500 Maple Ave.)
New York, NY: February 3-5 at Heritage Auctions Park Avenue (445 Park Ave.)
Beverly Hills, CA: February 9-12 at Heritage Auctions Beverly Hills (9478 West Olympic Ave.)
More details can be found on the Heritage Auctions website. Me, I've got my eye on Snatcher from The Boxtrolls — but I'm working with a film blogger budget here, so it's definitely out of my reach. I'll just keep my fingers crossed that he's included in the New York exhibit.