'The Lazarus Effect' Trailer: Olivia Wilde Comes Back From The Dead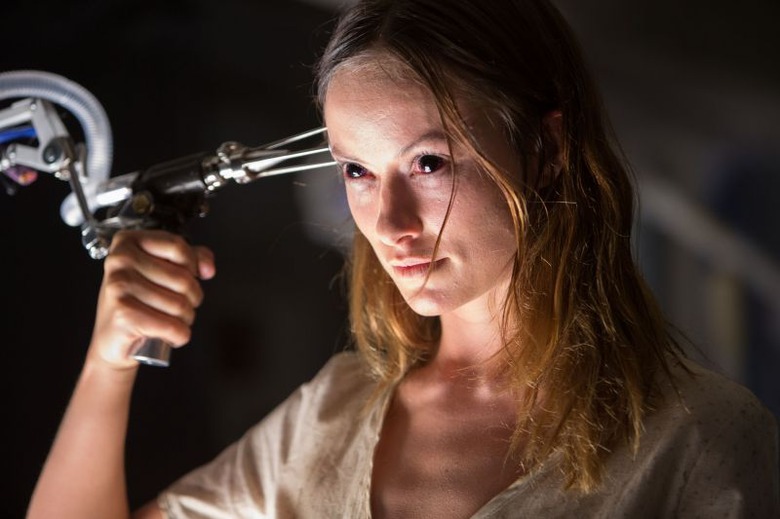 Resurrecting the dead rarely turns out to be a good idea in the movies, but that doesn't stop movie characters from continuing to try. And then instantly regretting their actions the moment they succeed. That's the basic premise of The Lazarus Effect, the latest picture to come out of Jason Blum's horror hit factory.
Mark Duplass and Olivia Wilde play med students who find a way to bring the dead back to life. After she does in an accident, he winds up using the method on her. It works, but there's something very wrong about the version of her that comes back. Evan Peters and Donald Glover also star. Watch The Lazarus Effect trailer after the jump. 
Relativity debuted The Lazarus Effect trailer on YouTube.
Blumhouse has collected a pretty eclectic group of talents for this one. The Lazarus Effect is the first narrative feature by David Gelb, previously known for documentaries like Jiro Dreams of Sushi. Neither Wilde nor Duplass have a ton of horror movie experience, and Glover and Peters are probably best known as "the guy from Community" (or "that guy who is also Childish Gambino") and "the guy from X-Men: Days of Future Past," respectively.
But the unusual casting is by design, according to Blum. "The most important thing to make a movie scary is that the you forget you're watching actors, and you think you're watching real people," he told EW. "So I think if the audience sees someone they don't necessarily associate with that genre, it makes it feel more real."
The premise should seem a bit more familiar, especially if you've seen 1990's Flatliners. "All of us really liked that movie," acknowledged Blum. "I feel like we're tipping our hat to Flatliners, for sure, in this movie." However, he insists Gelb offers "a really unique take on bringing someone back from the dead."
We'll have to wait and see whether The Lazarus Effect can live up to Blum's hype, but the first trailer, at least, is promising. The Lazarus Effect (formerly titled Reawakening) opens February 27.