VIDEO: See All The 'Frozen' Easter Eggs In 'Big Hero 6'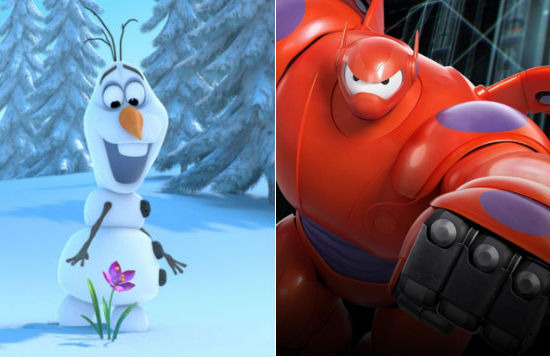 The team at Disney Animation Studios loves putting Easter eggs in their movies. When you're working on a single shot for days, weeks, or even months you've got to do something to stay focused and interested. Big Hero 6 is no different, and the film is chock full of gags. "I will say we just generally we have a lot of Easter eggs in this movie," co-director Chris Williams told us last year. "To the point that we had to really tell our artists to knock it off."
There are definitely some in the Fred's room scene but there are actually a bunch tied to that other Disney Animated film everyone is still talking about, Frozen. Big Hero 6 hits Digital HD/ Disney Movies Anywhere February 3 and then Blu-ray Combo Pack on February 24th. To tease that announcement, Disney has revealed one of the disc's features, a video pointing out all the Frozen Easter Eggs in Big Hero 6.
Watch that video below, and read a previously unpublished discussion /Film had with directors Chris Williams and Don Hall about the relationship between Frozen and Big Hero 6.
First up, here's the video via Disney Anywhere.
Video: Frozen Easter Eggs in Big Hero 6
It should be no surprise Frozen is all over Big Hero 6. The two films were in production simultaneously for a long time. In our interview with the directors last year, we asked about how the success of that film effected Big Hero 6:
/Film: While you guys were making this movie, Frozen came out and became the biggest hit in Disney history.Don Hall: We were like 20% done [with BH6].What does that do to expectations for this movie?Chris Williams: The thing that people don't realize is that we're a pretty small community up on the third floor making our stories. And we all work on each other's movies. I worked on Frozen for a year. And every movie, each movie's success is everyone's success. The thing that is important to us though is people sort of track Disney feature animated movies. They're aware there's a lineage there. And it's important to us, with each movie, to build a trust with the audience and to keep that trust. So whatever genre we're taking on, whatever kind of movie it is, the audience knows when they go see a Disney animated movie they're gonna have a great experience. So we love the idea of trying new genres, surprising them with subject matter. But it has to be great because that's the pressure. The pressure is the relationship we have with the audience and keeping a trust there.Hall: And the success of Frozen, really, it could only really help us.  I mean, it shows that we've been building movie to movie. In sort of the last or era of Disney animation. And that we are achieving a level that is a very quality film that is pushing boundaries and great stories. So it was the pressure of just continuing that as opposed to any kind of dollar mark or something like that.Williams: And certainly there will never be another Frozen. You know what I mean? Like it's this crazy thing. You can't really–It came out of left field.Williams: Yeah. You can't really expect any movie to make that kind of money.Hall: And certainly, nobody here did either. You know, we were blown away and the fact that we're still talking about Frozen and people just love it. I still hear Let It Go. And, it's crazy. It's great. And we couldn't be happier for them. We're thrilled to be up next.Williams: Yeah. I'm a voice in Frozen actually and I was asked to do a about 1000 lines for the Florida theme park, 'cause they're doing–Oh yeah, they're doing the whole new Frozen ride  yeah.Williams: Yeah, they're, they got big plans.Hall: Big plans.