'Demonic' Trailer: Frank Grillo And Maria Bello Lead James Wan-Produced Thriller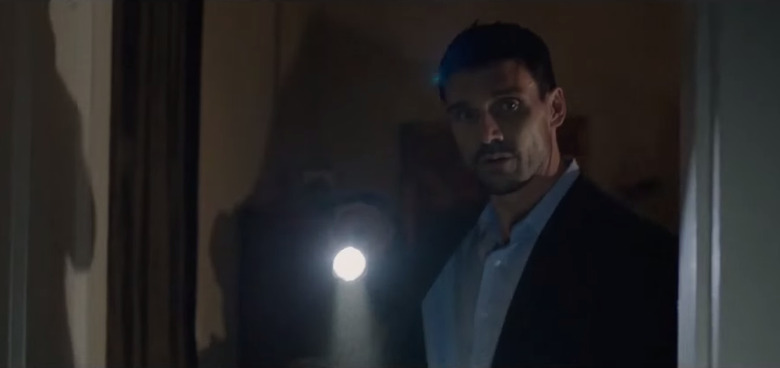 Originally, James Wan was supposed to have two films out in 2014: Furious 7, which he directed; and Demonic, which he produced. Alas, both got pulled off the calendar. Furious 7 has at least found a new date in April, but we're still waiting for release details on Demonic.
In the meantime, though, we do have a new Demonic trailer that offers a taste of the creepiness to come. Frank Grillo and Maria Bello star as a detective and a psychologist (respectively) investigating the deaths of five college students who perished while looking for ghosts. Will Canon directed. Watch the Demonic trailer after the jump.
[via Collider]
Demonic was shot in early 2013 and has been gathering dust ever since. Dimension Films finally got around to announcing a release date last summer, giving it the December 12, 2014 slot, only to cancel those plans just a few months later. As of now, Demonic still doesn't have a release date.
No reason was given for the delay, and the Demonic trailer doesn't really provide any clues. It doesn't look great — the trailer, at least, feels kind of derivative — but it doesn't look any worse than some of the crappy horror releases that did hit theaters in 2014.
Plus, Grillo had a big year last year with Captain America: The Winter Soldier, The Purge: Anarchy, and DirecTV's The Kingdom. You'd think the studio would have wanted to piggyback on that. Or maybe he was so overexposed that the studio wanted to spread the wealth?
In any case, Demonic also stars Cody Horn, Dustin Milligan, Megan Park, Scott Mechlowicz, and Aaron Yoo. In addition to producing, Wan also contributed to the story. It'll likely land in theaters sometime this year.
DEMONIC centers on the aftermath of a horrific massacre where five college students were brutally murdered inside an abandoned home. Detective Mark Lewis and psychologist Dr. Elizabeth Klein question one of the few survivors who explains they were amateur ghost-hunters, seeking out paranormal phenomenon at the abandoned house, which was believed to be haunted. But what started out as a harmless activity turned into something truly terrifying.