New Photos From 'Terminator Genisys,' 'Avengers: Age Of Ultron,' 'Mad Max' And 'Man From U.N.C.L.E'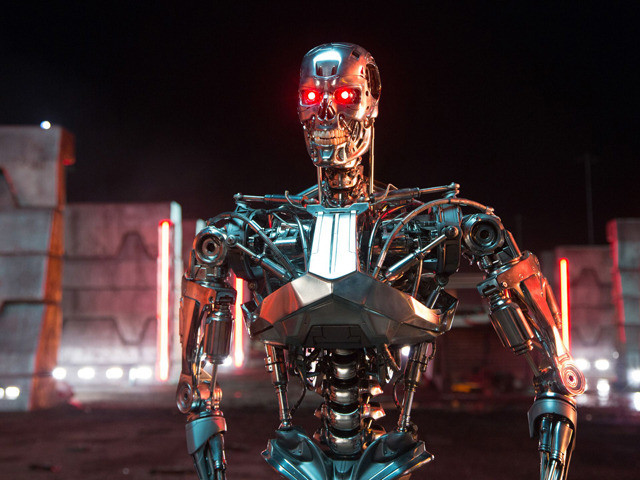 Want to see new photos from four of the biggest upcoming movies of the year? Of course you do. USA Today recently wrote an article called "The geekiest movies for 2015" and included photos of several of the big films: Star Wars: The Force Awakens, Jurassic World, Crimson Peak and more. Those, however, we'd already seen. The paper had new photos of Terminator Genisys, Avengers: Age of Ultron, Mad Mad: Fury Road and The Man from U.N.C.L.E. Check them out below.
Here are the new photos via USA Today.
We'll take those one by one. The Terminator Genisys endoskeleton definitely isn't the same as the ones in the original films. His sternum and spine are more streamlined and pointed so you have to wonder, is this a new version of a T-800 or just a new design choice on the same model? Directed by Alan Taylor, starring Arnold Schwarzenegger, Emilia Clarke, Jai Courtney and Jason Clarke, Terminator Genisys opens July 1.
The Avengers: Age of Ultron pic isn't quite as revealing, but the look of concern on everyone's face and setting are interesting. Directed by Joss Whedon, starring Robert Downey Jr., Chris Hemsworth, Chris Evans and many more, Avengers: Age of Ultron opens May 1.
The Man from U.N.C.L.E. image, again, isn't much but it kind of has a little Pink Panther vibe to it, with the two hulking men sharing a vespa. I don't know what to think about this film but I'd love Guy Ritchie to make a big comeback here. The Man from U.N.C.L.E., starring Henry Cavill and Armie Hammer, opens August 14.
Finally, the Mad Max: Fury Road image shows Tom Hardy's title character actually talking. Which I hear he doesn't do much. I'm also curious about the Bluetooth looking ear piece. What's the point of that? Directed by George Miller, Mad Max: Fury Road stars Tom Hardy, Charlize Theron and Nicholas Hoult. It opens May 15.