'Game Of Thrones' IMAX Run Delayed, But Full Theater List And Ticket Info Available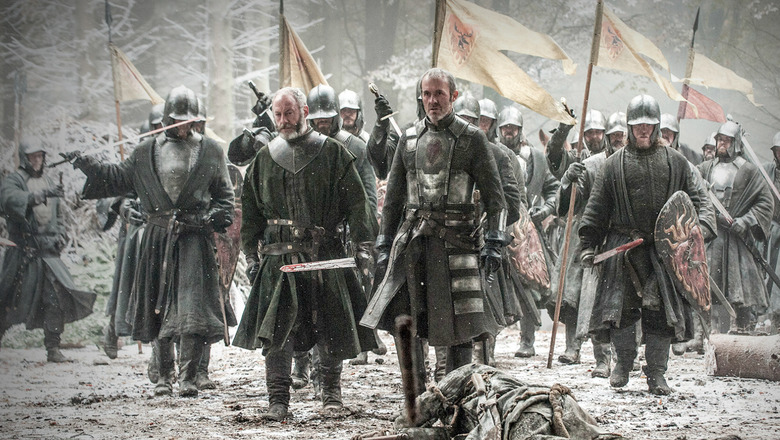 UPDATE: The Game of Thrones IMAX presentation has been delayed one week, but will now open on 200 screens, which you can find below. Tickets go on sale January 16. Original article follows, new info is after that.
The big world of Westeros is about to get even bigger. HBO has announced a Game of Thrones IMAX release to hit theaters later this month, making the fantasy epic the first-ever TV series to play in the jumbo-screen format.
The screenings will consist of the last two episodes of Season 4 ("The Watchers on the Wall" and "The Children"), plus an exclusive first trailer for Season 5. More details on the Game of Thrones IMAX release after the jump. 
Since Game of Thrones was not originally shot in IMAX, the episodes will be digitally remastered for the format. The Game of Thrones IMAX presentation will run in 150 theaters throughout the U.S. for one week starting January 23. Ticket info will be available on the IMAX website.
It's hard to think of a series better suited for the IMAX format than Game of Thrones. It's more cinematic than most shows, and with a massive scope and the budget ($6-10 million per episode) to match. Moreover, "The Watchers on the Wall," directed by Neil Marshall, is a blockbuster-worthy spectacle even by Game of Thrones standards.
The two companies entered discussions months ago. Although the run is unprecedented, the popularity of the series among key demographics, as well as its movie-sized budget (episodes run $6 to $10 million apiece), convinced both sides that to give it a try.
The timing works in HBO and IMAX's favor, too. The Game of Thrones IMAX release is perfectly positioned to kick off HBO's marketing campaign for Season 5. Meanwhile, late January is a slow time for IMAX. "It would be difficult to bump Avengers or Star Wars or Bond to do something like this," acknowledged IMAX CEO Richard L. Gelfond. "But in late January, you have a lot more flexibility."
While this marks the first time a television series will screen in the IMAX format, it likely won't be the last. IMAX has been in talks with other companies about playing other television shows, as well as possibly live sports and music concerts. And should the screenings go well, it's hard to imagine it'll be last time HBO experiments with new viewing formats.
Game of Thrones Season 5 is expected to premiere in April. Details are being kept under wraps for now (of course), but based on what we've seen and heard so far, it looks like the new run of episodes may diverge even further from the books, and introduce flashbacks for the first time in the series.UPDATE: The Game of Thrones IMAX presentation will now take place January 30 in order to add 50 more screens. EW has the news, and you can find the full list of theaters at this IMAX link. Tickets go on sale on that site Friday, January 16.