'Good Kill' Trailer: Ethan Hawke Goes To War For Andrew Niccol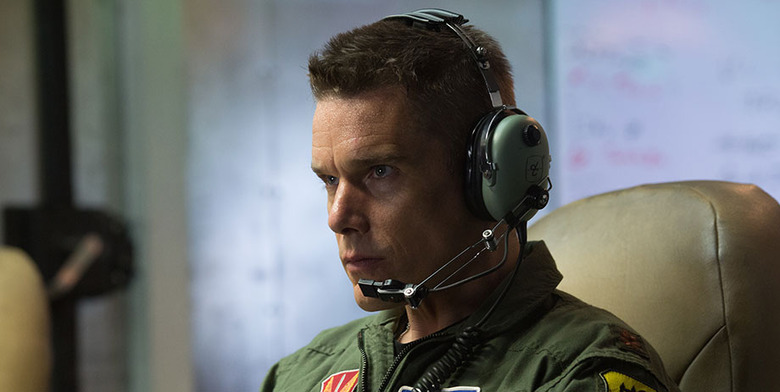 A decade after Lord of War and nearly two decades after Gattaca, Andrew Niccol and Ethan Hawke have joined forces again for Good Kill. Hawke leads the drama as a military pilot at war, but the twist is that he's fighting this particular war from home — he's a drone pilot stationed in Las Vegas while controlling machines halfway around the world.
In theory, it's an ideal compromise that allows him to simultaneously serve his country and be there for his family. But as time goes on, he starts to question the mission and the tactics they're using to achieve it. January Jones stars as his long-suffering wife, Zoe Kravitz is his co-pilot, and Bruce Greenwood is their commanding officer. Watch the Good Kill trailer after the jump. 
Voltage Pictures debuted the Good Kill trailer on YouTube.
The Good Kill trailer has some clunky moments, including one where Greenwood recites Hawke's own stats back at him for expository purposes. For the most part, though, it looks like an intriguingly modern take on the war movie. We've seen morally conflicted and traumatized soldiers before, but never quite in this configuration. There's something unsettling about watching him kill strangers in a foreign land, and then come home to hang out with his wife and kids.
Look for Good Kill to land in theaters sometime this year.
Good Kill tells the story of a Las Vegas fighter-pilot turned drone-pilot (Ethan Hawke), who fights the Taliban via remote control for half of his day, then goes home to his wife (January Jones) and kids in the suburbs for the other half. But the pilot is starting to question the mission. Is he creating more terrorists than he's killing? Is he fighting a war without end? One soldier's tale with epic implications.
GOOD KILL is a visually stunning exploration of how a man's psychological, emotional and moral boundaries are challenged by the realities of 21st century warfare. The film initiates an important dialogue about the current techniques used in modern war, and in the same vein as THE HURT LOCKER and FULL METAL JACKET, illustrates how war is constantly being redefined according to the technologies and methods in play.