Cool Stuff: Hot Toys The Dark Knight Batman Armory Sixth Scale Figure Set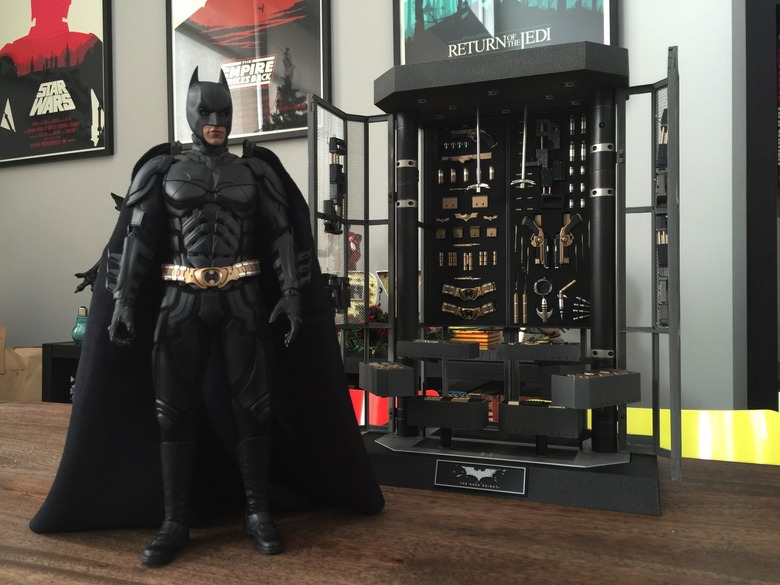 Sideshow Collectibles sent me a sample of Hot Toys' The Dark Knight Batman Armory  Sixth Scale Figure set. Lets unbox this figure and take a look at whats inside the box. After the jump you will find photos of the Hot Toys The Dark Knight Batman Armory Sixth Scale Figure Set, alongside my thoughts on the product.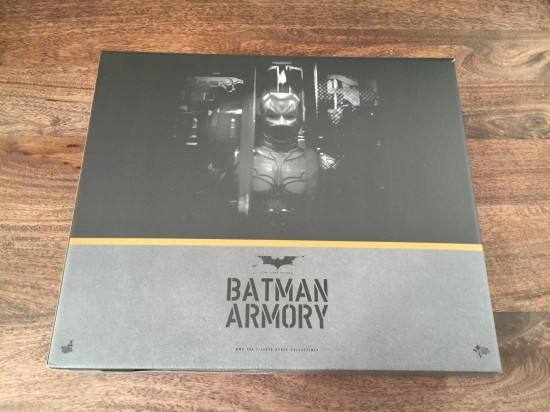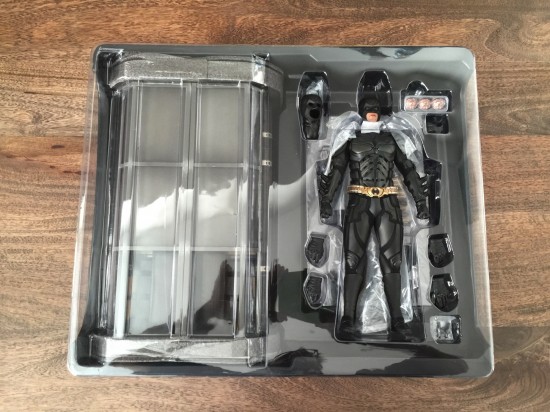 Christopher Nolan's The Dark Knight trilogy didn't have an awesome Batcave set-up like previous films and movies, but the filmmaker made up for that with the Batman Armory display case in The Dark Knight. Like much of Nolan's creations, the Batman armory is a great mix of functional yet cool, and finally Hot Toys have recreated it for their sixth scale line of collectibles.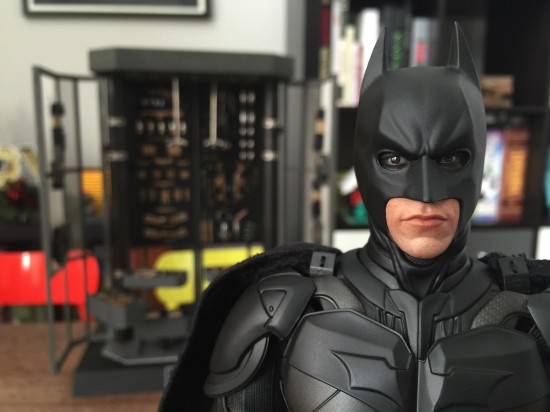 Sideshow/Hot Toys The Dark Knight Batman Armory Sixth Scale Figure Set  Reviewed
The  Hot Toys The Dark Knight Batman Armory Sixth Scale Figure Set that I took a look at was the one called "Batman Armory with Batman". Don't let this title fool you, while it does come with both the Batman Armory and a Batman figure, that is the Batman figure hanging as the Bat armor in the Armory case however it does come with all the proper pieces to be set-up as its own figure without the armory. There are other versions of this set that also come with Alfred and or Bruce Wayne, but as you can expect, the price increases with more figures.
What's in the Box?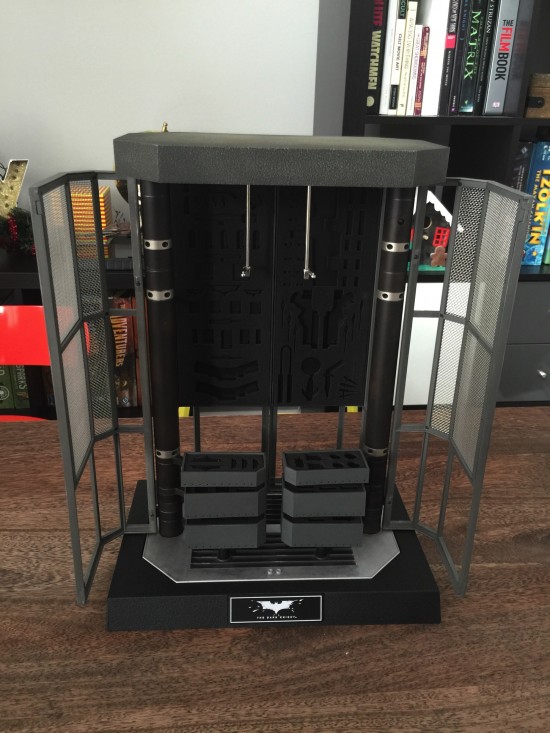 The Batman Armory display stands approximately 37 centimeter tall and features movable armory doors and shelves.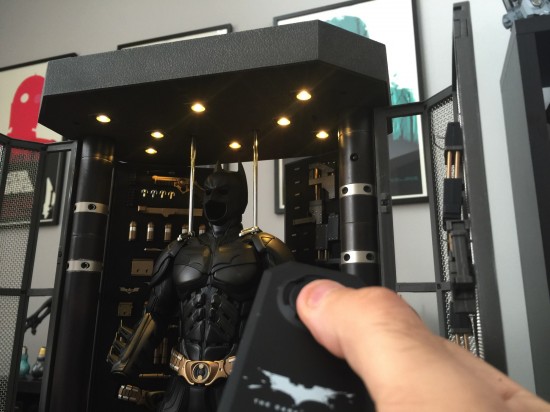 Perhaps the coolest thing about the release is the light up feature. Eight recessed ceiling lights can be turned on using a wireless remote control which make the entire display look so much cooler.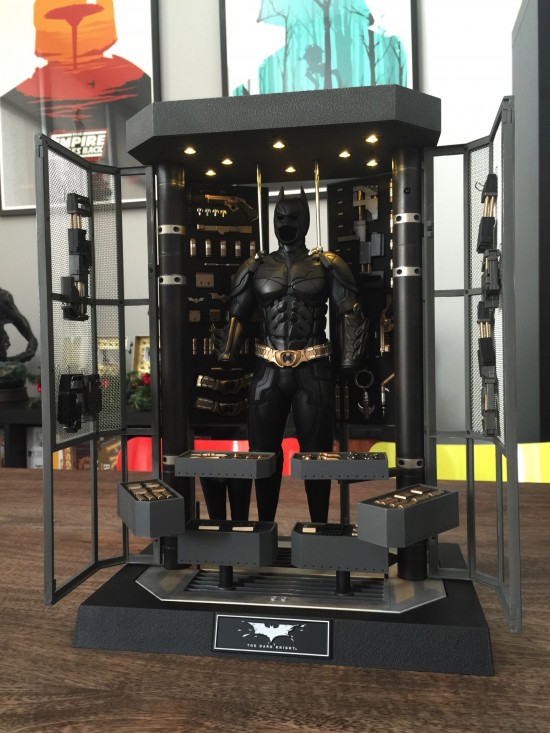 Note: Batteries needed for this function are not included but included, but you should find three AAA batteries readily available.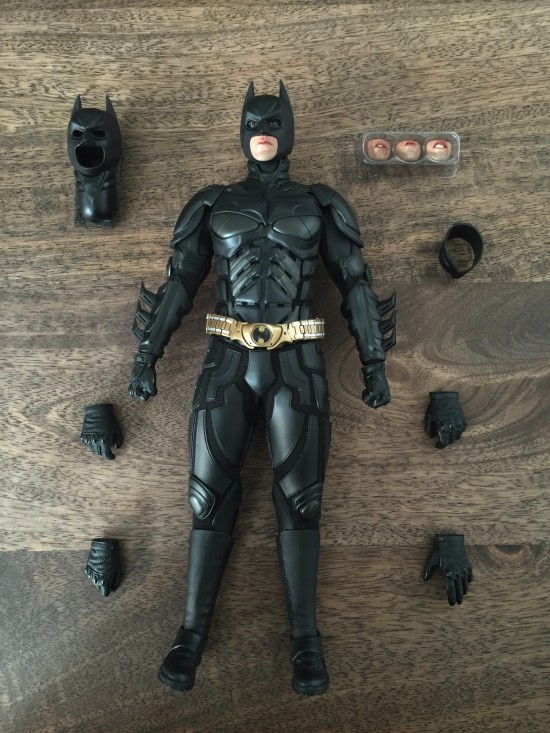 The 1/6th scale Batman Collectible Figure features a Batman head which employs Hot Toys' patented Parallel Eyeball Rolling System which allows you to have the figure look in almost any direction possible.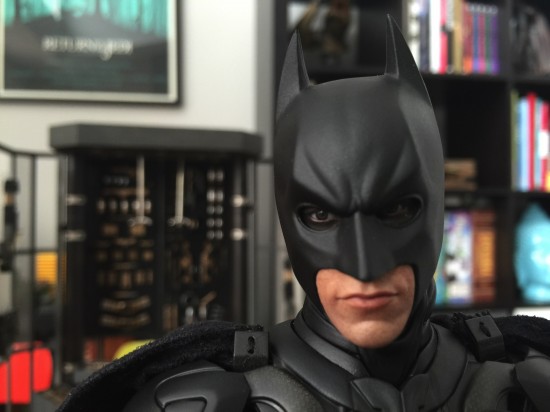 It also comes with four interchangeable lower faces capturing a variety of Christian Bale's facial expressions.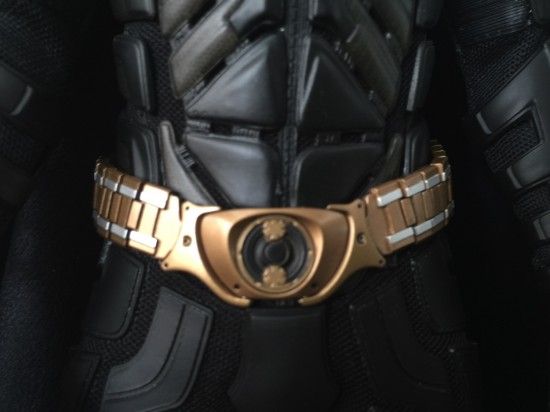 The figure comes equipped with a Batsuit collar, black cape and a pair of black boots which can be removed and put on display in the armory.  The figure also includes six pieces of interchangeable gloved palms including: a pair of fists, a pair of relaxed palms, a left open palm and a right palm for holding batarang.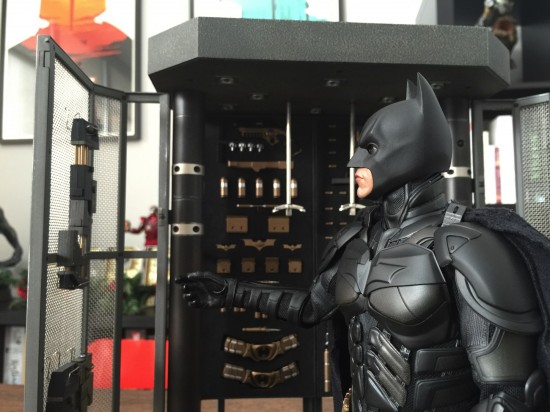 The hands and boots can be removed entirely, and a second empty Batman mash is included so that it looks like a hanging suit (and not a man in suit) when on display.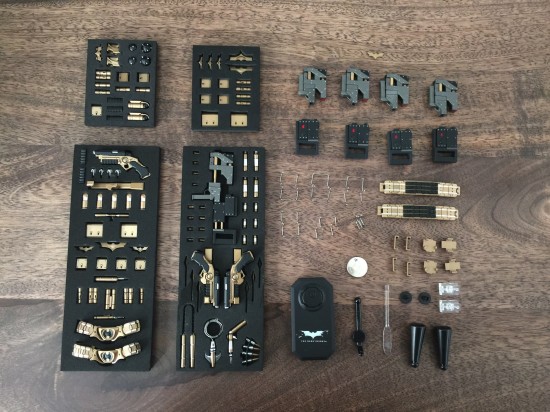 One of the most impressive things about the Batman Armory is the expanse of weaponry on display, and Hot Toys could have easily cheaped out and had these pieces painted within the display itself but every little piece is removable.
Included are a surudoi saw, nunchuck, cutter, 2 smoke bombs, 3 sticky-bomb guns, 3 grappling guns, 3 Batarangs, 4 mini mines, 6 ninja spikes, 8 additional Batarangs, a set of wire, antidote injector, drill, set of drill bits, big hook, 3 utility belts, 3 gun holders, 4 hooks, 5 sets of grappling gun clips, 14 mini canisters, 15 pouches, 27 rounds of ammo and more.
Some or most of these items can actually be used on display with the Batman figure on its own, and some of the items even act as accessories — for instance the Batarangs can be attached to Batman's utility belt.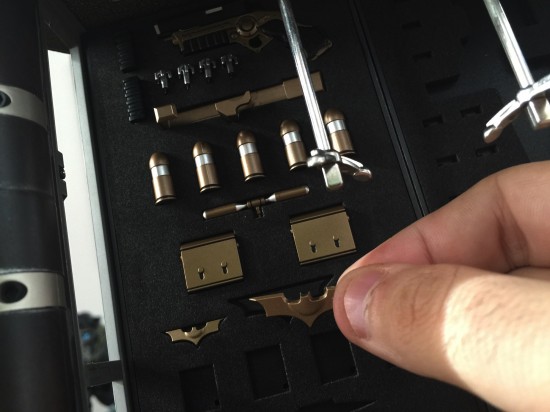 The only thing annoying about this many accessories is that it will take a considerable amount of time to assemble all of the accessories in the armory display. I wish Hot Toys had just packaged everything in the walls which could then be attached to the armory, but hey, I'm lazy. The Armory also comes with a stand that features a plaque with The Dark Knight movie logo.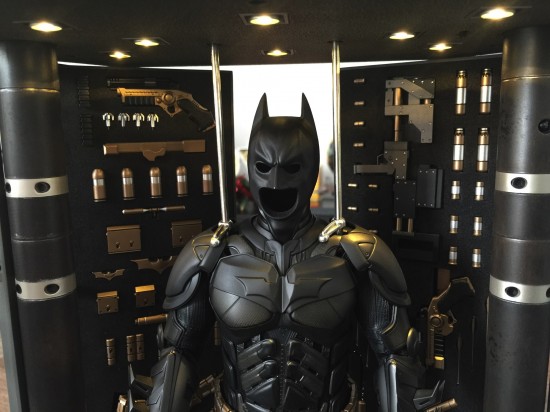 This product is extremely impressive, looks awesome on display with or without the suit on display. Any fan of Nolan's Dark Knight trilogy should love this set.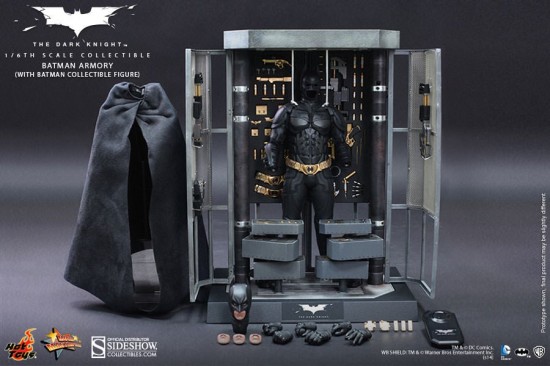 Here is the official product description for the Hot Toys The Dark Knight Batman Armory Sixth Scale Figure Set:
Sideshow Collectibles and Hot Toys are excited to present the highly anticipated Batman Armory and Batman sixth scale figure set from the 2008 film, The Dark Knight. With light-up features, working doors and shelves, and meticulous attention to detail, Batman's specialized armory stores all of his state-of-the-art weaponry and gadgets. The set also includes a screen accurate Batman sixth scale figure with patented Parallel Eyeball Rolling System (PERS), four newly sculpted interchangeable expressions, along with a detailed fabric costume with armor based on the costume design from the film and large collection of finely sculpted weapons and accessories.
The Hot Toys The Dark Knight Batman Armory Sixth Scale Figure Set is sold in the US by Sideshow Collectibles for $384.99.