DIE HARD: Alien VS Predator Fan Created Teaser Trailer [VOTD]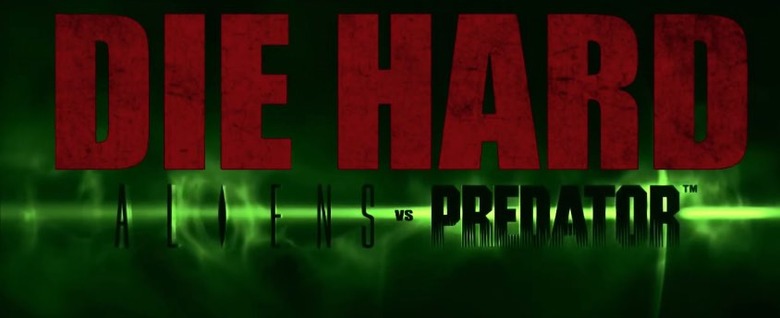 Last month after we learned that Sony was discussing a possible crossover movie between 21 Jump Street and Men in Black, I wrote a list of 5 Movie Crossovers That Could Be Ridiculous Fun.
One of my ridiculous ideas was for 20th Century Fox to make Die Hard 24/7: Alien Invasion — John McClane, now head of security at a huge Casino resort either in China (because, well, co-production money) or Dubai, who is working to stop one of the biggest heists in the history of ever (another current trend). As it turns out, the mastermind trying to rob the casino is 24's Jack Bauer (his daughter Kim is being held hostage, cougar or something, and he is being forced into it). The story starts as McClane vs. Bauer but all hell breaks loose when an alien ship crashes within the state of the art complex, which of course goes into lockdown and a swarm of xenomorphs are let on the lose. The two men must now work together against the bigger threat.
Ridiculous? Yes. One of my favorite comments from the post was "Die Hard/24/Alien Crossover is probably the dumbest thing I've ever heard. I'd see it at least six times at the theatre." The idea isn't completely original, Fox was at one time developing a Die Hard 24/7 film which would have seen John McClane and Jack Bauer team up against a global threat but for whatever reason, the project fell into development hell and we got that horrible 24: Live Another Day event series instead.  Anyway, this is just a long intro to present a fan made trailer that was sent to me that almost visualizes my ridiculous crossover movie pitch. Hit the jump and watch the fan made DIE HARD: Alien VS Predator Teaser Trailer.
DIE HARD: Alien VS Predator Teaser Trailer
The following fan made DIE HARD: Alien VS Predator Teaser Trailer was edited by ChiefBrodyRules: