'Hits' Trailer: David Cross Makes His Directorial Debut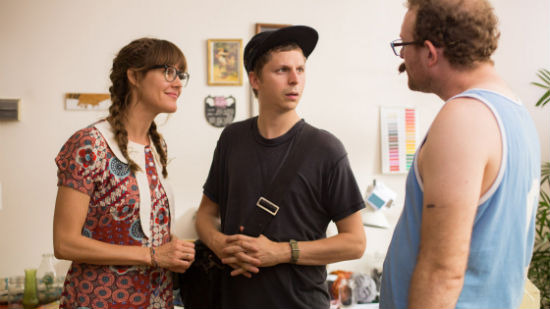 After years of acting in films both awesome and terrible, David Cross is finally making his directorial debut with Hits. The indie comedy centers on a small-town girl (Meredith Hagner) who dreams of fame, while her father (Matt Walsh) accidentally stumbles into it.
Cross has stuffed the cast with familiar faces, including Michael Cera, Wyatt Cenac, David Koechner, and Jason Ritter. Watch the Hits trailer after the jump. 
Production company Honora unveiled the Hits trailer on YouTube.
Katelyn's hunger for fame is pretty clear, but she seems dismayed to see her dad get there first. He's prone to outbursts at town hall meetings, and after he's caught on camera during a particularly heated incident, he captures the attention of a bunch of hipsters (led by Cera, naturally). They use his video for their own purposes, bringing scrutiny to to the town of Liberty, NY.
There's probably a great movie to be made about viral-video fame, but it's not clear if Hits is it. Reactions were mixed to negative upon its Sundance premiere last year, with Variety's Rob Nelson (among others) sighing that it "misses the mark more often than not."
On the bright side, even those who didn't care for the film seemed to see potential in Cross' future as a director. As summed up by Drew McWeeny at HitFix: "He's got a comic voice that we could use in movies today, and even if I didn't feel like this film came together completely, I'd still like to see what else Cross has to say."
Hits doesn't yet have a release date, but will presumably open sometime this year.
Hits is a dark comedy exploring the nature of fame in 21st century YouTube America. The film takes place in a small town in upstate New York populated by people who trade in unrealistic expectations. It's a story in which fame, delusion, earnestness, and recklessness meet, shake hands, and disrupt the lives around them.