Josh Gad Will Play Roger Ebert In 'Russ & Roger' [Updated]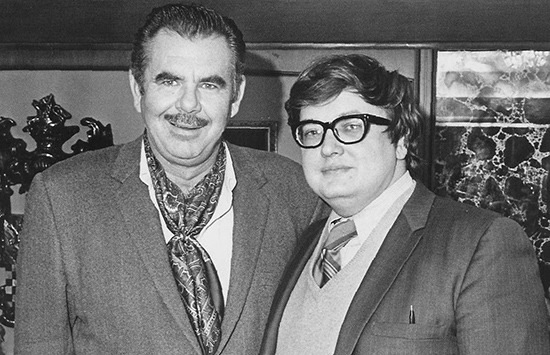 Update: Josh Gad is now finally confirmed to play Roger Ebert in the film Russ & Roger opposite Will Ferrell as film producer and director Russ Meyer. (The film was formerly referred to as Russ & Roger Go Beyond.)
Michael Winterbottom will direct the movie, which follows the creation of Ebert and Meyer's film Beyond the Valley of the Dolls. This picture is described by THR as "a debaucherous comedy centering on two outsiders who defied the Hollywood establishment and made one of the first X-rated films ever released by a major movie studio."
Original story follows.
Josh Gad is best known for playing roles in Frozen and The Book of Mormon, but he has dabbled with portraying real figures, too. He played Apple Computer co-founder Steve Wozniak in Jobs, and now he's in line to play the late film critic Roger Ebert in Russ & Roger.
The film already has Will Ferrell lined up to play filmmaker Russ Meyer, who with Ebert created the film Beyond the Valley of the Dolls. This film plans to explore their friendship and working relationship, and the origin of that film. And if we see Josh Gad as Roger Ebert opposite Ferrell as Meyer, we have to assume it is meant to be quite the comedy as well.
The news of Gad being in line for the role came from Hollywood Elsewhere, and The Wrap adds that the actor does not have a deal at this point, but that he's the top choice for the gig. The news came straight from the film's producer David Permut. The script is by Christopher Cluess of SNL.
The story says the film begins in the late '60s just as the New Hollywood movement was really kicking off, and Fox was struggling in the wake of a series of flops. Richard Zanuck gave Meyer the Beyond the Valley of the Dolls directing gig in the hopes that Meyer's drive-in success and cheap working methods could create a film that would make money for Fox. Meyer hired Ebert, and the two got on surprisingly well.
That pegs the film as a potentially fun romp through the heady days of "anything goes" Hollywood as new voices briefly triumphed over old establishment types. And of course there's the easy attention-getting ploy of casting women to play the various large-busted actresses with whom Meyer always associated, even if BVD featured a less superheroically-proportioned cast than his other films.