'Jane Got A Gun' First Look: Natalie Portman And Joel Edgerton Armor Up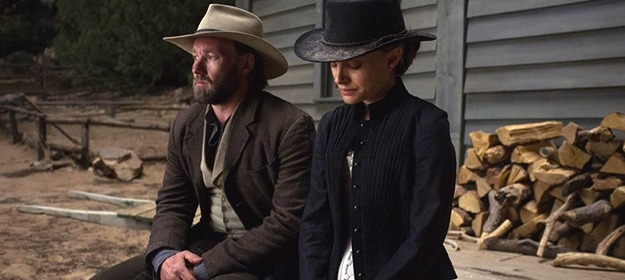 Jane Got a Gun made headlines last spring for its rocky development process, including original director Lynne Ramsay's last-minute departure and the casting shakeups that followed. But now that the shoot has finally wrapped, we're finally getting our first look at the project that caused all this trouble.
Gavin O'Connor wound up directing the Western actioner, which stars Natalie Portman, Noah Emmerich, Ewan McGregor, and Joel Edgerton. See the first Jane Got a Gun images after the jump. 
Ramsay had been attached to direct Jane Got a Gun since 2012. However, she abruptly dropped out the day before shooting began in March 2013. O'Connor, who'd previously worked with Edgerton on 2011's Warrior, was very quickly brought into replace her.
However, Ramsay's exit had already done its damage. First Jude Law dropped out, because he'd signed on specifically to work with Ramsay. Then a string of potential replacements for Law (including Bradley Cooper) came and went, while lawsuits flew back and forth.
O'Connor was ultimately able to pull it all together, but the film suffered delays. It was supposed to hit in August 2014, then February 2015, and now it's on track to open on September 4.
As for how things turned out for the movie itself, only time will tell. But it seems safe to assume whatever O'Connor puts out will be a very different beast from whatever Ramsay had planned. 
Jane Got a Gun has a Black List script written by Brian Duffield, with rewrites by Anthony Tambakis. Here's the official synopsis:
Natalie Portman stars as Jane, who rebuilds her life with new husband Bill (Noah Emmerich) after being tormented by an outlaw gang led by Collin (Ewan McGregor). But things get ugly again when the husband has a fresh run-in with the gang, leaving Jane little choice but to ask her ex-fiance (Joel Edgerton) for help.