Star Wars Bits: Maker Studios To Do 'Star Wars' YouTube Videos; Plus Warwick Davis & Millennium Falcon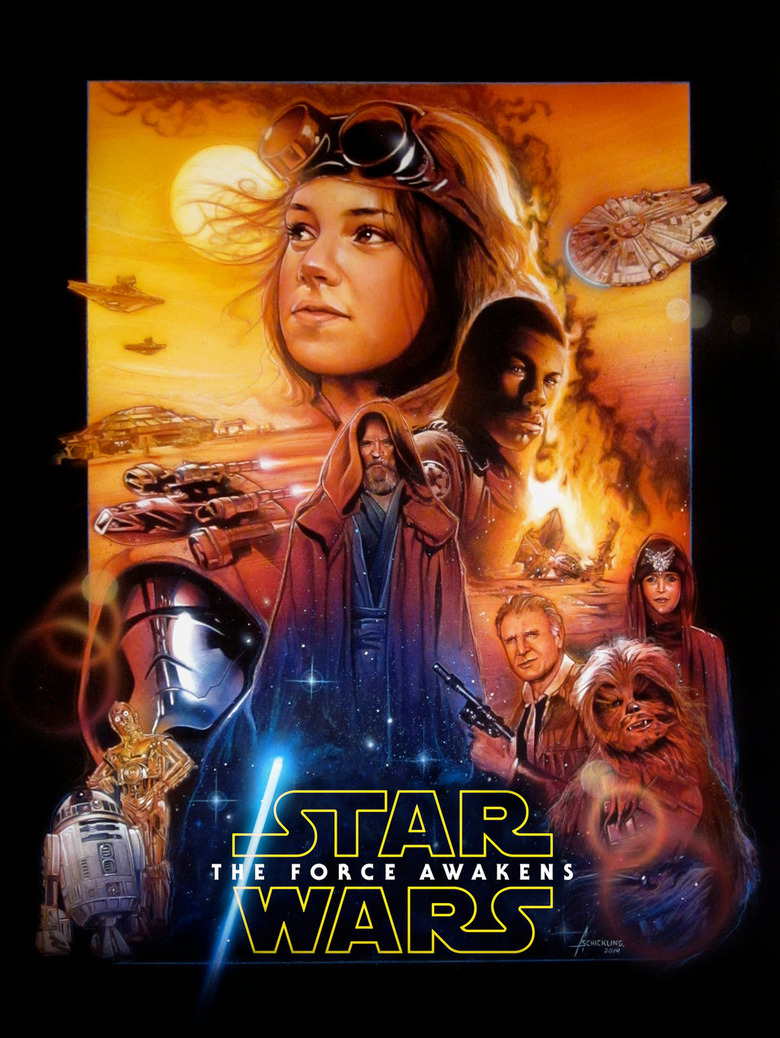 This is final Star Wars Bits published in a year where a Star Wars movie isn't being released. It's kind of a big deal. Below, read about the following:
Warwick Davis is looking forward to the new poster.
The Jedi Academy is coming to Disneyland Paris.
George Lucas wants to destroy every copy of the Star Wars Christmas Special.
Plus, a Red Letter Media look back at the special.
Maker Studios will reportedly be making new online Star Wars content.
Watch a new clip from the latest Star Wars Rebels.
Find out how you can build a realistic model of the Millennium Falcon.
Read rumored descriptions of the ice planet and starships from The Force Awakens.
Header image: by rampantimaginationA on Deviant Art
That Drew Struzan-inspired image above is a perfect segue way to this quote by Warwick Davis. The Star Wars actor, who appears in The Force Awakens, is very much looking forward to seeing the old characters on a new poster. Thanks to SW Underground.
What I'm most excited by is the chance to see members of the old cast in the poster. I've been a fan of 'Star Wars' ever since the first film came out in 1977. This just feels like an amazing moment.
Odd that he'd only mention the old characters. Is it because they're being held back in the marketing? I guess we'll see.
Young Star Wars fans who go to Disney parks have been able to train as Jedi at the Jedi Academy at various different places and, finally, it's coming to Disneyland Paris in 2015. Disney and More has the details, which include the fact it's not just a straight adaptation, but a whole new event with a brand new stage. Head there for more.
Salon ran an article about the Star Wars Christmas Special last week. In it, they run one of the few quotes George Lucas has ever made publicly about the special: "If I had the time and a sledgehammer, I would track down every copy of that show and smash it." Read more at the link.
Lucas would have to visit these guys in that case. The Red Letter Media crew did a review of the Christmas special.
Bloomberg is reporting that Maker Studios, a YouTube company Disney owns, has been tasked with doing online Star Wars content in the coming year. The aim will be to sell The Force Awakens and more to audience members who may not be particularly familiar with the franchise. Read more here.
Check out a clip from Monday's new episode of Star Wars Rebels:
Are you a model maker? Do you like the Millennium Falcon? Then watch this video. Thanks to JediNews.
Finally, a few new Force Awakens concept art descriptions courtesy of multiple sites. Super minor, maybe spoilers below as this is all rumor.
Star Wars 7 News has a possible description of the film's snow planet. They say that it definitely is not Hoth and is a placed used to "depict solitude almost exilelike situations/confinement." Who exactly is in exile? We don't know.Making Star Wars has a description of a ship that may or may not appear in the film. It apparently is "very angular" with wings like a TIE Interceptor, but shaped more like a grenade. Head to the site to read more.MSW also writes about a piece of art that shows how pilots get into a TIE Fighter while on a Star Destroyer. Basically, it sounds like some kind of rotating, conveyer belt system. Read more at the link.