Russ Fischer's Top Ten Films Of 2014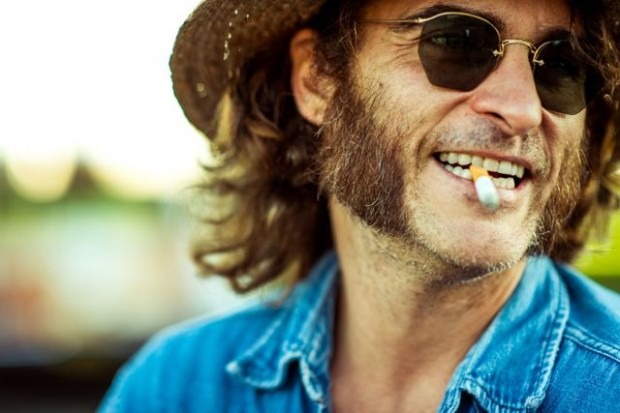 Focus, simplicity and control. As I look back over the films of 2014, the ones that most stay with me are not the sprawling epics or the movies that tried to cram a surplus of ideas or technique into one story. (Sorry, Birdman and Interstellar.) They're the movies, not even necessarily the "small" ones, that exhibit something specific in filmmaking technique, or unusually refined in their approach to story. 2014 was packed with movies I loved, and this list could easily be three times as long as it is. Below, you'll find the ten films that have stuck with me most intensely, along with a page of extra picks that all offer something special, too.
For the rest of our year-end picks, see these lists:
Germain's Top Ten | Angie's Top Ten | 50 Great Movies to See in 2014
The Honorable Mentions
First up, here's set of runners-up that are very significant for me, even if they didn't make the final list of ten films.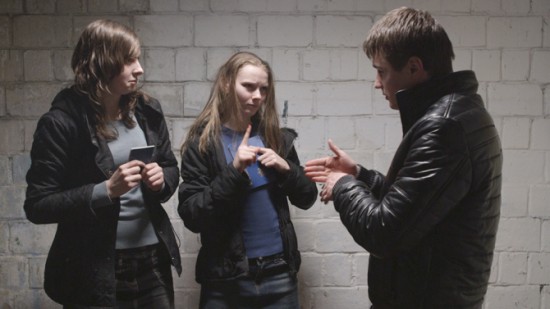 The film I didn't even "like" that I thought about more than any other: The Tribe
I've mentioned this one a couple times on other lists and will keep mentioning it until Drafthouse Films puts it in US theaters in late spring/early summer 2015. For now I'll just say that The Tribe, a movie featuring only characters who are deaf, with all dialogue in sign language without subtitles,  has challenged many of my assumptions about developing drama on screen. Change just one thing from the typical approach to drama and the effects resound through the whole piece and echo out into real life. The film's depiction of an isolated deaf community — even one as movie-specific and brutal as this film's criminal subculture — challenged my understanding of those communities as a whole.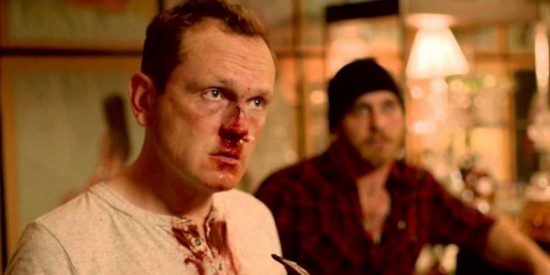 The film that would have been a serious list contender if I hadn't seen it in early 2013: Cheap Thrills
Simply a great thriller, in which two down on their luck guys are given an unusual opportunity to dig out of their respective holes. All they have to do is sacrifice, well, potentially everything to make the most of the opportunity. By focusing on just four characters, played by Pat Healy, Ethan Embry, Sara Paxton, and David Koechner, the film offers the cast a chance to stretch and really dig into their roles as the story explores common anxieties with brutal intensity.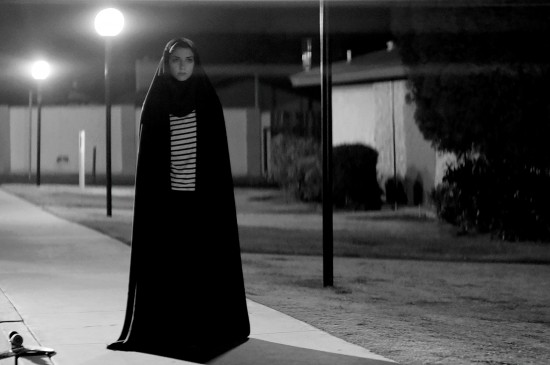 The feature debut that has me desperate to see what a director does next: Ana Lily Amirpour, A Girl Walks Home Alone at Night
Stylish, confident, and packed with potent observations about social roles, this horror/western/rock and roll movie upends several genre concepts and creates an unforgettable lead character. There are echoes of other films and filmmakers here, but this is one of several films from 2014 that has a unique personality that will stand the test of time. This heralds a great future for writer/director Ana Lily Amirpour.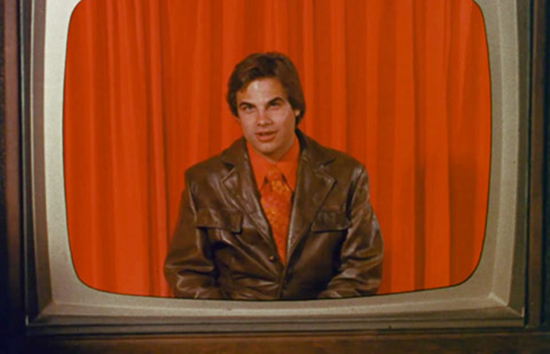 The "lost" film that gave me something I didn't know was missing: The Astrologer
At Fantastic Fest Nicolas Winding Refn introduced a film from 1976 that most of us had never even heard of — a movie made by an astrologer which tells the story of a globe-trotting astrologer who makes a movie about an astrologer — and my mind melted. This movie is simultaneously inept, oddly competent, and effective. I don't think I've had as much fun in a theater this year as I have the three (yeah, three) times I've seen this movie theatrically in 2014.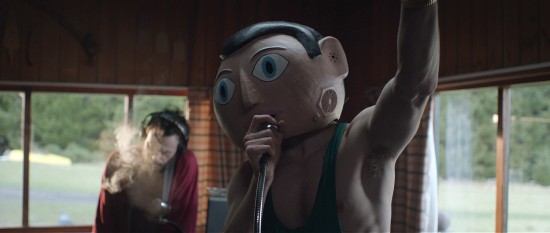 The incredible performance that defies categories: Michael Fassbender in Frank
We've seen actors do tremendous work under the digital skin of animation and mo-cap technology, but in Frank Michael Fassbender doesn't have digital artists to paint in facial expressions. He has an immobile head made out of paper mache — so his commanding performance as an outsider musician who finds unexpected popularity is based entirely in physical performance. It's a joy to watch him work without an actor's primary tools. With nuance and feeling, he crushes a pantomime performance that could wither other actors.
***
Coming up next: the first five of my top ten films in 2014.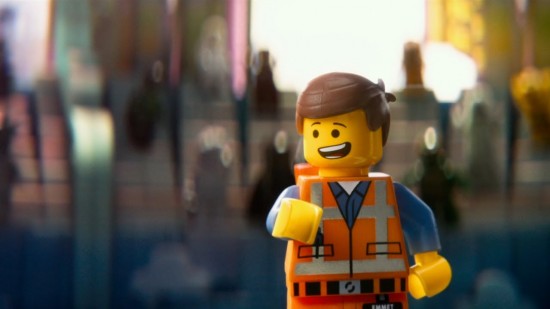 10. The Lego Movie (Philip Lord and Chris Miller)
The subversive spirit seems to have been bled out of major studio films, but The Lego Movie is (a) unabashedly an ad for plastic building blocks and (b) unreservedly critical of the Lego company's shift towards instructions and rules rather than free creativity. The movie is endlessly creative, wildly energetic, and often deliriously funny. Frankly, it is difficult to accept that this film exists as a thing backed by Warner Bros. and Lego. This movie has spirit and love, and a sly nature that makes it stand apart from almost everything else out there.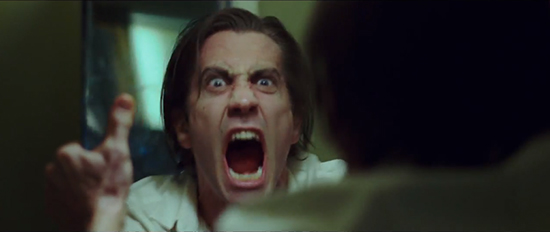 9. Nightcrawler (Dan Gilroy)
Jake Gyllenhaal does career-best work as a man without morals or reservations who discovers that his sociopathic tendencies make him well-suited for success in business. Forget looking at Nightcrawler as a media satire — the media stuff is just the window into the film's bigger concepts about business culture as a whole.

8. Blue Ruin (Jeremy Saulnier)
When I first saw Blue Ruin at Sundance last January I loved the movie but probably wouldn't have called it as a likely contender for year-end consideration. But cinematographer-turned-director Jeremy Saulnier achieves something that has become more valuable to me this year than ever before: he tells a good story with incredible precision and economy, maximizing the impact of every scene by removing extraneous details.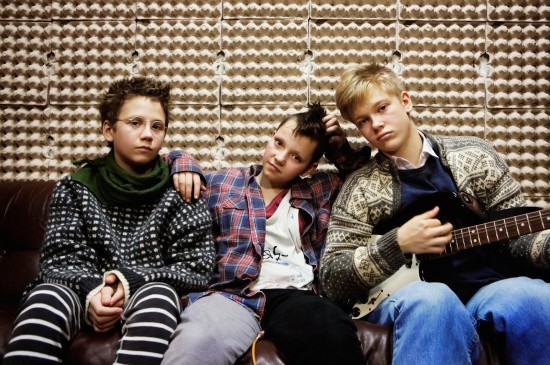 7. We Are the Best! (Lukas Moodysson)
Three young girls form a punk band in early '80s Sweden as a way to define and control their own identities, and in chronicling them Lukas Moodysson creates one of the best coming of age films I've ever seen. This movie gets what it feels like to be stuck outside cliques and social groups, and it perfectly captures the joy of screaming "fuck you" to anyone who tries to stifle your voice. Vulnerable, tender, perceptive, and brash, this movie shows how great it is to just do something, regardless of whether it has any potential to be great.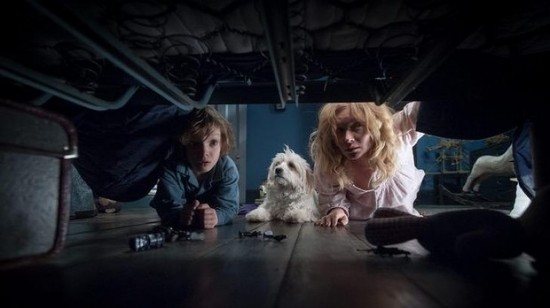 6. The Babadook (Jennifer Kent)
The best horror film I've seen in years is really a family drama that happens to feature a supernatural angle as a single mother and her young son deal with the shadow of loss and grief that hovers over their life before coming viciously to life as a vicious force. Essie Davis and Noah Wiseman are pitch-perfect as the mother and son, but the real star to watch here is writer/director Jennifer Kent, who we'll be eagerly watching as the next couple years roll on.
***
Next up: the final five!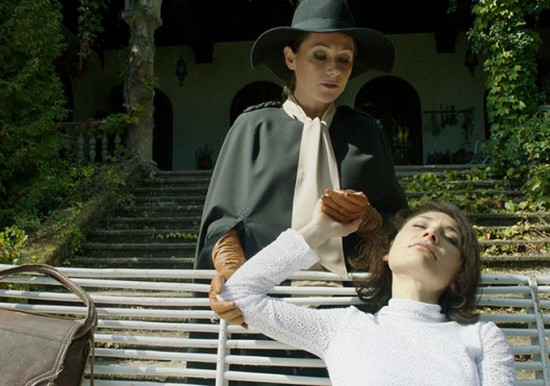 5. The Duke of Burgundy (Peter Strickland)
In a different year this could be my number one. Peter Strickland creates a visually stunning pocket society in which men are totally absent, and where the residents of a small town primarily seem to study butterflies and sell elaborate sexual accessories. Beyond the aesthetic achievement this is also a film with a resonant emotional center. Strickland creates an initial air of mystery, drawing us in to a relationship that at first seems high-pitched and unusual, but which we quickly realize is subject to all the same forces as the love affairs the rest of us embark upon. And that's the real triumph here — a simple achievement, but a significant one. The Duke of Burgundy avoids the obvious approach of turning the film's core couple into an exotic object of fascination, and instead treats them like two people. The result is one of the most memorable screen romances I've seen in years.
(I considered holding this back for next year, as it is a festival film that hasn't been released in the States. But IFC will have it in theaters on January 28, and that's close enough for me.)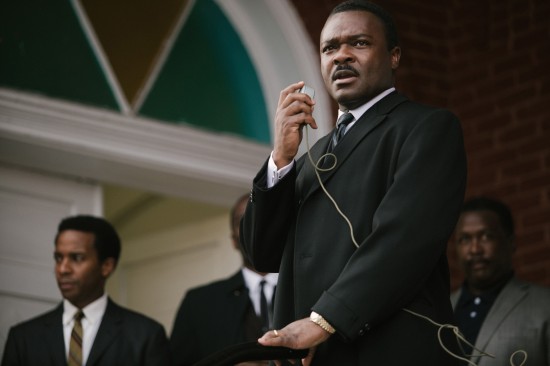 4. Selma (Ava DuVernay)
2014 had no shortage of biopics focusing on artistic, scientific, and political figures. But Selma is something else, a film that keeps its eye squarely on Martin Luther King the man, rather thank MLK the icon. This is a film that understands doubt and weakness and the spirit that keeps us all pushing forward. It understands the factionalized, often fractured nature of activism and the difficulty that any group faces when trying to effect change, even when the goal is as clear-cut as voting rights for African-Americans. Selma doesn't attempt to deify King, but through David Oyelowo's incredible performance elevates our understanding of him by showing how often he had to push against his own shortcomings and uncertainties to help the United States take some of the most significant social steps in our history.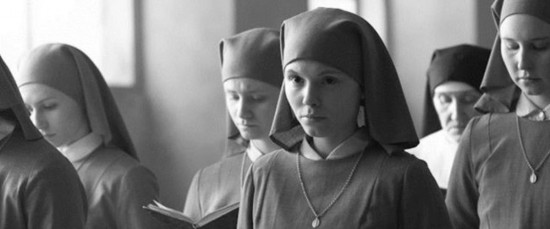 3. Ida (Pawel Pawlikowski)
Like a spiritual noir created by Ingmar Bergman, this story about a nun-to-be who dives into her family history is a rich investigation of faith, mistakes, and responsibility. Strenuously restrained and as simple and austere as the outer life of the young woman whose name gives the film its title, Ida is a great example of what a filmmaker can achieve with equal measures of confidence and trust in the audience. Director Pawel Pawlikowski paints a devastating portrait of one character whose path in life is revealed as being horrifically compromised, but the film does away with many obvious methods of emotional manipulation. Ida has the power to shatter an audience, but is controlled enough to let us come to terms with the story's grief on our own.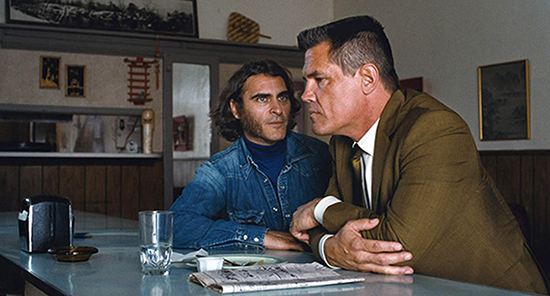 2. Inherent Vice (Paul Thomas Anderson)
After my introduction you might be tempted to look at this one as an anomoly, and yes, you could use words like "sprawling" and "messy" to describe Paul Thomas Anderson's latest film. But those ideas only get at the superficialities of Inherent Vice. What Anderson has really done is apply a shift in emphasis and focus to Thomas Pynchon's novel to create a portrait of two characters who could be halves of the same brain. "Doc" Sportello, the bright burnout who has taken the counterculture low road, and "Bigfoot" Bjornsen, who set his sights on the establishment to make his ambitious dreams come true. Scenes which appear to be digressions turn out to be crucial to building character; nearly everything in the film is in service to those two characters and their relationship to power structures, and ultimately their relationship to each other.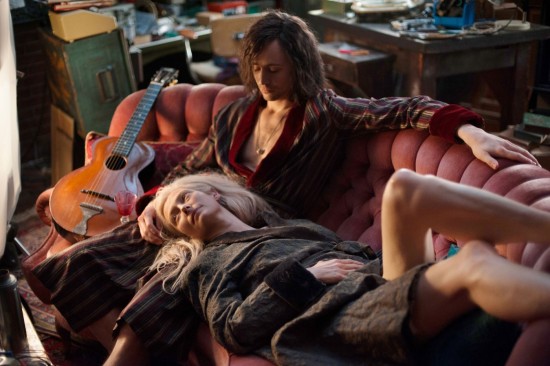 1. Only Lovers Left Alive (Jim Jarmusch)
Like no other vampire movie ever made, this is also a rock and roll movie and a film about creativity, love, and the spirit that binds us to the rest of the world. Tilda Swinton and Tom Hiddleston are softly spectacular as two people (or creatures) that have seen centuries come and go, and who continue to find their place in a world that has an ever-smaller space for them. Dreamily gorgeous, backed with an incredible soundtrack (also co-created and performed by writer/director Jim Jarmusch) and guided by a drily contagious sense of humor, Only Lovers Left Alive is the movie of my dreams.
***
For the rest of our year-end picks, see these lists:
Germain's Top Ten | Angie's Top Ten | 50 Great Movies to See in 2014