Sylvester Stallone Might Have Just Spoiled 'Creed'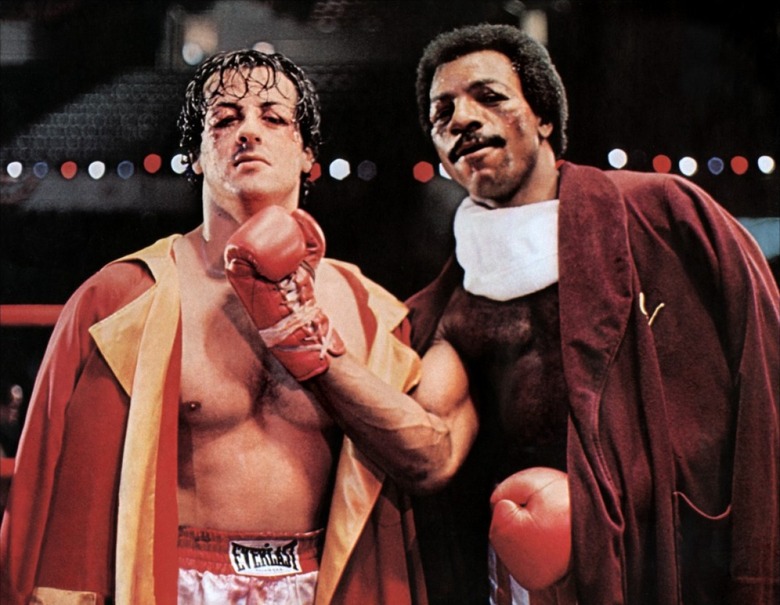 Unlike some upcoming sequels and spin-offs, the Rocky spin-off Creed hasn't been clamped down in some mystery box. We already know it'll center around Apollo Creed's grandson Adonis Creed (Michael B. Jordan); we know Adonis wants to be a boxer; we know he gets his granddaddy's old rival Rocky (Sylvester Stallone) to get him into fighting shape.
Still, there are probably a few things the production would still like to keep under wraps. Like the ending, which Stallone may have just given away on Twitter. Hit the jump for the Sylvester Stallone Creed spoiler. 
The potential spoilers come from a photo Stallone tweeted.
Where the screenwriting is done. pic.twitter.com/ISrobCeveW

— Sylvester Stallone (@TheSlyStallone) December 28, 2014
At first glance the image seems totally innocuous, but a closer look at that page reveals that it's a page from the Creed screenplay. Not only that, it seems to be a page from a very important scene — perhaps Adonis Creed's climactic match.
Here's the text from the top half of the page, as best as I could decipher. Potentially major spoilers lie ahead. Do not keep reading if you don't want to risk being spoiled.
ROCKY
Listen to em'.
STADIUM ATTENDEES
CREED... CREED... CREED... CREED
Adonis looks around the stadium [illegible] the standing ovation.
EXT. PHILADELPHIA MUSEUM [illegible] SUNRISE – ONE WEEK LATER
The long flight of stairs [illegible] Rocky's van pulls up. Adonis and Bianca help out, dressed [illegible] street clothes. Small white bandages on his face cover [illegible] wounds. He opens the passenger door and helps Rocky, who [illegible] a gray sweat suit, and black beanie. he is slower and [illegible] thinner – he has started the chemo treatments again.
Rocky balances himself with [illegible] left hand on Adonis' right shoulder. They stand at [illegible] the steps. Rocky takes a deep breath. One step at [illegible]
Tl;dr version: Adonis wins his match, and Rocky has cancer. The first of those isn't that surprising — the protagonist in a sports film wins his big game? SHOCKER – but the second is an unexpected development for the fictional fighter. It's not his first brush with disease, though. His wife Adrian was revealed to have died of ovarian cancer in the last film, 2006's Rocky Balboa.
It's definitely possible Stallone is just trolling his followers. He wouldn't be the first actor to do so if that's the case. Or it may be that this particular draft of the Creed script won't be the one that's used for the movie. But there's no indication that the tweet is a joke, and the plot details seem plausible enough.
Either way, we'll find out for certain when Creed opens in 2016. Ryan Coogler (Fruitvale Station) is directing, and Tessa Thompson also stars.