Sylvester Stallone Confirms 'Rambo: Last Blood' Title; Will Shoot After 'Creed'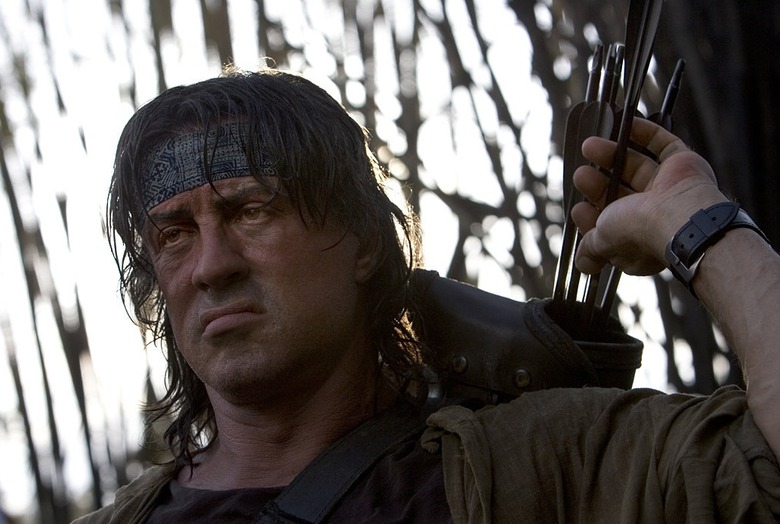 Sylvester Stallone is currently over in Philly getting started on the Rocky spin-off Creed, and once that's done he's looking to revisit another of his iconic characters. The actor and screenwriter has confirmed he is working on Rambo: Last Blood (or is it Last Blood: Rambo?). In fact, it'll move forward before his mob drama Scarpa does. More details on the Sylvester Stallone Rambo Last Blood update after the jump. 
Stallone offered the update in a series of tweets.
Going to Philly to start the film CREED.... What a great idea

— Sylvester Stallone (@TheSlyStallone) December 28, 2014
Doing Scarpa based on Gangster Greg Scarpa after LAST BLOOD RAMBO...

— Sylvester Stallone (@TheSlyStallone) December 28, 2014
His notes seem to confirm rumors from this fall that the fifth Rambo movie would be titled Last Blood. At the time Peter complained the name was "a bit too on the nose," but it does seem appropriate. Interestingly, Rambo: Last Blood was also the name of a flash-based game released in 2012.
As previously announced by Splendid Films, Stallone has already begun work on his screenplay for the next Rambo film. "With Rambo V, Sylvester Stallone returns in his iconic role," the company said in June. "This time he goes up against a Mexican cartel. Stallone describes the new Rambo as his version of No Country for Old Men."
The fifth Rambo movie has been in development for several years already, but as of now still hasn't officially been announced. Stallone's latest message doesn't say when exactly cameras will roll on Rambo: Last Blood, only that it'll take priority over Scarpa. So either Rambo: Last Blood is shooting soon, or Scarpa is a really long way off.
Scarpa is being directed by Brad Furman and scripted by Nicholas Pileggi (Goodfellas, Casino). It'll the true tale of Gregory Scarpa, a capo and hitman who claimed to have killed at least 50 people for the Colombo crime family. Scarpa will focus on the gangster's later life as an FBI informant, specifically his help with the "Mississippi Burning" case in the mid-1960s. Scarpa died of AIDS-related complications in 1994 at the age of 66.