Sequel Bits: 'Independence Day 2', 'The Hobbit', 'Taken 3', 'Mad Max: Fury Road'
We present to you the very last Sequel Bits of 2014. After the jump:
Woman in Black 2 unveils a motion comic prequel
See a leaked image of the Jurassic World Lego set
Bryan Mills has a big problem in this Taken 3 clip
Katherine McNamara joins The Maze Runner 2
Could Randy Quaid return for Independence Day 2?
Jamie Oliver is still sad he wasn't in The Hobbit
Watch the latest Punk's Dead: SLC Punk! 2 trailer
Tom Hardy glowers in a new look at Mad Max: Fury Road
The Woman in Black's life sounds pretty awful. No wonder she's so mean and vengeful in the afterlife — so much so, in fact, that she's still rattling around Eel Marsh House 40 years after the events of the first Woman in Black movie. Directed by Tom Harper, The Woman in Black 2: Angel of Death opens January 2. [via Coming Soon]
Lego Movie star Chris Pratt will be back in Lego form again next year. Only this time, it'll be for Jurassic World. A leaked image of the Jurassic World Lego theme shows, among other things, an Owen (Pratt) minifig, a Henry Wu (BD Wong) minifig, a Hamada (Brian Tee) minifig, several dinosaur figures, six building sets, and a June release date.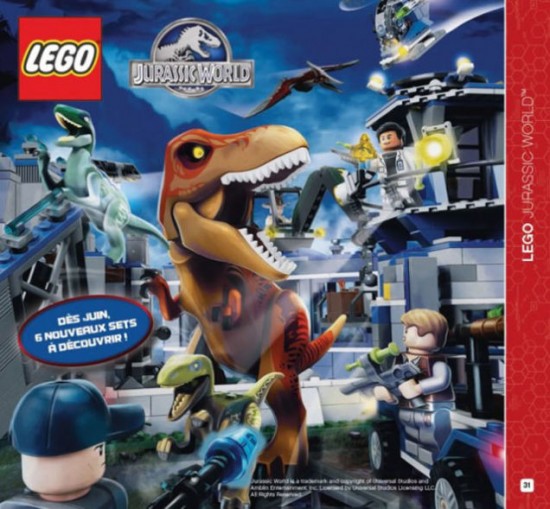 This is an illustration and not an official photograph, so the details may still change between now and June 12, 2015, when Jurassic World hits theaters. [Jurassic Bricks via Gizmodo]
As promised, Taken 3 doesn't center around someone being taken. However, Bryan Mills (Liam Neeson) has a whole other set of issues to deal with, like being framed for the murder of his ex-wife Lenny (Famke Janssen). Fortunately, it looks like he was smart enough to plan ahead for just such an occasion. Watch a new clip from Taken 3 below.
Taken 3 drops into theaters on January 9. [JoBlo]
While The Maze Runner featured a nearly all-male cast, The Maze Runner Chapter II: The Scorch Trials is looking a bit more gender-balanced. The latest addition is Katherine McNamara, who'll play Sonya. She joins fellow newcomers Rosa Salazar, Nathalie Emmanuel, Aidan Gillen, Giancarlo Esposito, and Lili Taylor.
In the books, the character is a member of "Group B," another undergoing the Trials. (Don't worry, all of those mysteriously capitalized words will make more sense once you see the movie.) Wes Ball returns to direct the sequel. Production begins this month for release on September 18, 2015. [Deadline]
Director Roland Emmerich got the rumor mill churning this week when he seemingly hinted at some casting for Independence Day 2.
"Ha-ha-ha! Hello, boys! I'm BAAAAAACK!"#IndependenceDay pic.twitter.com/I9XOAiLAXi

— Roland Emmerich (@rolandemmerich) December 29, 2014
However, we say "seemingly" because it seems unlikely Randy Quaid's Russell Casse will really return. For one thing, the character died in the last film. For another, Quaid has been involved in some legal issues that led to the U.S. revoking his passport — leaving him stuck in Canada. And even if Independence Day 2 goes to Canada to shoot, it seems doubtful anyone involved will want to risk taking him on.
Oh well. At least Casse went out in style.
[Twitter]
Peter Jackson's Hobbit trilogy had a massive cast, but one guy who wasn't able to get in on the fun is Jamie Oliver. And the British chef regrets it to this day. Oliver explains:
The worst thing that happened to me was that I got phoned up by the exec producer and asked did I want to go and cook for Peter Jackson's birthday, the big birthday. And if I did, they would fly me over and I could be a hobbit in the film. But I was working, I couldn't get out of it. I really wanted to do it, I would have got right into it as well, I would have taken the costume home and said "Jools [Oliver's wife], let's make love!"
Well, there's always the inevitable Lord of the Rings reboot, right? [The Daily Mail]
In spite of the title, the punk rock spirit looks alive and well the new NSFW trailer for Punk's Dead: SLC Punk! 2. Ben Schnetzer plays Ross, son of Heroin Bob (Michael Goorjian), who's trying to find his own way in the world. Good thing his late dad is on hand to dispense wisdom from beyond the grave. Devon Sawa, Adam Pascal, and James Duval also reprise their roles from the original.
Punk's Dead: SLC Punk! 2 should land sometime in 2015. [via Vanyaland]
Empire Magazine has a new peek at Mad Max: Fury Road, in the form of two covers featuring star Tom Hardy. At least, we think that's Tom Hardy. It's hard to tell under all that Photoshop. Actually, as Russ points out, he kind of looks like the star of the other long-gestating sequel about a dystopian future set to open in 2015.
[Empire]