First Close Up Images Of 'Star Wars: The Force Awakens' Millennium Falcon; Plus Hear Yoda On 'Rebels'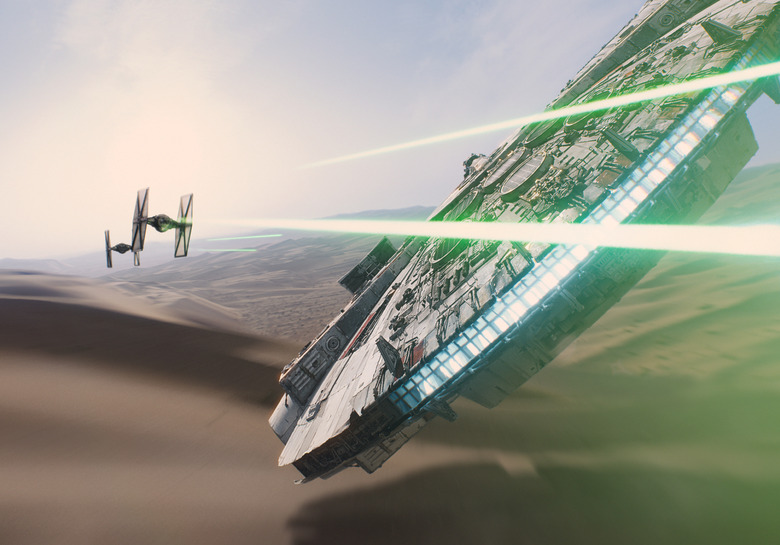 There are two cool pieces of Star Wars news for you on this last Monday of 2014. First up, Disney CEO Bob Iger appeared on the cover of Fortune Magazine with his $4 billion dollar co-star, the Millennium Falcon. Then, inside, there's a very cool new look at the Falcon from the ground level. The two constitute our first close-up images of the "fastest hunk of junk in the galaxy" from the 2015 sequel. We have the images below.
Second, Star Wars Rebels will return next week and as previously reported, Frank Oz will reprise his role as Yoda. The clip is now online and you can watch it below.
Fortune Magazine posted the images from their latest issue, along with some description of how each was made. They're by Wesley Mann for Fortune with a composite scene created by Industrial Light & Magic.
Fortune Magazine Millennium Falcon photos
For the cover shot, "Yannick Dusseault, visual effects art director for The Force Awakens, and his team gave Fortunesix options showing the Falcon in different ways. The resulting image required the custom rendering of ILM's computer generated Falcon. According to ILM, the fabled ship was rendered in wireframe form (a skeletal version) as well as a more layered "textured render," which were combined in Photoshop to create the final image."
ILM also created the interior image of Iger standing on the set. So that's not a real Falcon. But if you look at each, you can get a decent glimpse at the new satellite and more. Read about the photo shoot here, and the full article with Iger here.
Next up, IGN posted this clip from the new Rebels featuring the voice of Yoda.
Yes it's true. Yoda doesn't actually appear in the series yet. Kanan (Freddie Prinze Jr.) can only hear him, but the fact Yoda is communicating with the Jedi is a pretty significant development. It suggests Yoda can communicate with other Jedi as well, such as Obi-Wan Kenobi perhaps? We'll see how that plays out.
What do you think about the Millennium Falcon photos? Are you excited for Yoda to be in Rebels?