Kim Dickens Cast In 'The Walking Dead 'Spinoff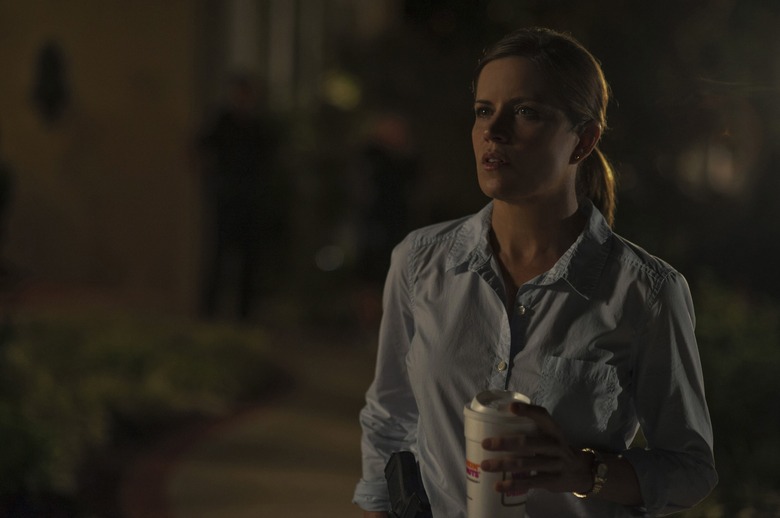 Kim Dickens, whose standout work was one of the best parts of Gone Girl, has been cast in one of the lead roles in the Walking Dead spinoff series. The show, code-named Cobalt, also features Cliff Curtis as another one of the lead roles in a story that will follow other characters at the beginning of the zombie outbreak seen in The Walking Dead, but here most likely set in and around the Los Angeles area.Deadline broke the news.
Kim Dickens in Walking Dead spinoff
The character to be played by Dickens is called a "girl next door with an edge," with that "edge" being a troubled past that will come back to haunt her. She's a guidance counselor and single mom to characters played by Frank Dillane ("a screwed up teenage son, too old to stay home, too scared to flee") and Alycia Debnam Carey ("level-headed teenage daughter with ambition is in direct proportion to her older brother's failures").
Curtis will play teacher and divorced dad Sean Cabrera, and who works at the same school that employs Dickens' character. He's described as "a good man trying to do right by everyone in his life." He has a teenage son, too, the actor for whom hasn't been revealed at this point.
In fact, the two characters have a romantic relationship going, in addition to their working relationship.
The Walking Dead creator and original comic writer Robert Kirkman, also created this show, with Dave Erickson, and Adam Davidson is set to direct.