Sony Will Release 'The Interview' To Select Theaters This Week [Updated With Theater List]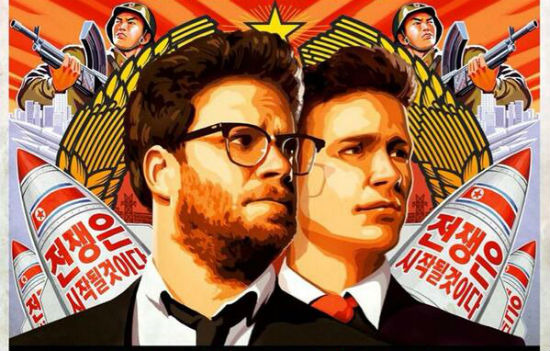 The Plaza Theater in Atlanta made news last night by claiming it would be screening The Interview beginning on Christmas Day. Initially there was no confirmation that Sony was going allow an Interview theatrical release – and since the film is likely only available as a DCP, showing The Interview without Sony's cooperation at this point would be basically impossible. But then other reports started to trickle in saying that Sony indeed plans to authorize screenings of the film, and at this point it seems that audiences will have multiple options to see the film in theaters and on VOD later this week.
UPDATE: Sony has issued an official press release, which you can read after the jump. It confirms the limited theatrical release but not the VOD plan. As of Tuesday night the VOD plan still remains tentative, though it seems as if it remains a likely option. Just how that will go down with major theater chains who scrapped the film remains to be seen, but the short phrase would probably be: "not well at all."
UPDATE 2: Director and star of The Interview, Seth Rogen has finally commented on the situation as has James Franco.
Update 3: We've got a partial theater list, but at this point the list has grown to between 200 and 300, so we may not be able to list every one.
When the Plaza claimed to be offering showings beginning on Christmas Day I was dubious, as the Star Wars debacle with that theater earlier this year erased my confidence in the management there.
But then Tim League, founder of the Alamo Drafthouse chain, said,
Breaking news: Sony has authorized screenings of THE INTERVIEW on Christmas Day. We are making shows available within the hour. #Victory

— Alamo Drafthouse (@alamodrafthouse) December 23, 2014
Earlier this week the Art House Convergence had issued an open letter to Sony requesting the option for indie theaters to program The Interview, which was followed by a Change.org petition in favor of that option. We don't yet know if art-house and independent theaters will be the primary theatrical homes for The Interview, but that's how it looks at the moment.
The Wrap says a VOD release is also set to be announced later today.
UPDATE: Here's Sony's official statement which, again, only hints at VOD at the moment. We'll update if a real VOD plan is announced.
SONY PICTURES ENTERTAINMENT ANNOUNCES LIMITED THEATRICAL RELEASE OF THE INTERVIEW ON CHRISTMAS DAY
[Hollywood - December 23, 2014]  Sony Pictures Entertainment today announced that The Interview will have a limited theatrical release in the United States on Christmas Day.
"We have never given up on releasing The Interview and we're excited our movie will be in a number of theaters on Christmas Day," said Michael Lynton, Chairman and CEO of Sony Entertainment. "At the same time, we are continuing our efforts to secure more platforms and more theaters so that this movie reaches the largest possible audience."
"I want to thank our talent on The Interview and our employees, who have worked tirelessly through the many challenges we have all faced over the last month.  While we hope this is only the first step of the film's release, we are proud to make it available to the public and to have stood up to those who attempted to suppress free speech."
UPDATE 2: Seth Rogen has finally come out of hiding (on Twitter) and offered this update:
The people have spoken! Freedom has prevailed! Sony didn't give up! The Interview will be shown at theaters willing to play it on Xmas day!

— Seth Rogen (@Sethrogen) December 23, 2014
As did James Franco:
Update 3: The Alamo Drafthouse has issued a statement; Drafthouse founder Tim League said:
We cannot imagine the pressures that have been affecting Sony, at all levels of the organization they have been under attack. Amidst this unwarranted chaos, they have regrouped and listened to the public, the government and the exhibition community and responded with resolve and determination. At 10:45 AM Sony bookers approved screenings at the Alamo Drafthouse Cinema and other arthouse and independent theaters across the country. This is the best Christmas gift anyone could give us. We, both distributors and exhibitors, have collectively stood firm to our principles and for the right to freedom of expression. Two days til Christmas, and I am proud to be an American.
- Alamo Drafthouse CEO Tim League
The following rundown was the full theater list as it stood Tuesday afternoon, December 23. By Tuesday night the list of theaters had grown to over 200, possibly to as many as 300, so we don't have a complete list. But with that many theaters participating, there's a very good chance there's something near you, unless you live in a fairly remote location.
Deadline also has a good rundown of how communications between Tim League, George R.R. Martin, and Tim Massett of Sun-Ray Cinema in Florida helped kick-start this release. The Art House Convergence letter mentioned above was part of what got the ball rolling.
Alabama:
Edge 12 – Birmingham
Arizona:
Harkins Theatres – Phoenix
Arkansas:
Riverdale 10 – Little Rock
California:
Agoura Hills Stadium 8 – Agoura Hills
Cinefamily – Los Angeles
Cinémas Palme D'Or – Coachella Valley
Commerce 14 – City of Commerce
Crest Westwood – Los Angeles
East Hills Mall – Bakersfield
Foothill Cinema Stadium 10 – Azusa
Fontana 8 – Fontana
Granada Hills 9 – Granada Hills
Janss Marketplace 9 – Thousand Oaks
Jurupa 14 – Jurupa
Los Feliz 3 – Los Angeles
Laemmle's North Hollywood 7 – Los Angeles (as of Dec. 31)
Mission Grove Theaters – Riverside
Perris 10 – Perris
Santa Paula 7 – Santa Paula
Sterling 6 – San Bernardino
Van Nuys Plant 16 – Van Nuys
University Village 10 – Riverside
Westminster 10 – Westminster
Colorado:
Alamo – Littleton
Lyric Cinema Cafe – Ft. Collins
Delaware:
Penn Cinemas Riverfront – Wilmington
Rehoboth Beach's Movies at Midway – Lewes
Westown Movies – Middletown
Florida:
Sun-Ray Cinema – Jacksonville
Georgia:
The Plaza Atlanta – Atlanta
Illinois:
Art Theater Co-Op – Champaign
Hollywood Blvd Cinema – Woodridge
Indiana:
Jasper 8 Theatres – Jasper
Louisiana:
Chalmette Movies – Chalmette
The Robinson Film Center – Shreveport
Maryland:
Eastpoint Movies 10 – Baltimore
Massachusetts
AppleCinemas – Cambridge
Michigan:
Alamo – Kalamazoo
The Michigan Theater – Ann Arbor
Missouri:
Alamo Main Street – Kansas City
MX Movies – St. Louis
New York:
Alamo – Yonkers
Cinemopalis – Ithaca
Cinema Arts Centre – Huntington
Dipson Flix 10 Stadium – Lancaster (Dec 26)
Dipson Lakewood Cinema – Lakewood  (Dec 26)
Island Cinemas – Mastic
Ohio:
Tower City Cinema – Cleveland
Gateway Film Center – Columbus
Oregon:
The Fox Theater – Dallas
Pennsylvania:
Southside Works Cinema – Pittsburgh
Puerto Rico:
Caribbean Cinemas – Puerto Rico
Rhode Island:
Cable Car Cinema – Providence
South Carolina
Terrace Theatre – Charleston
Tennessee
Belcourt Theatre – Nashville
Franklin Theatre – Franklin
Texas:
Alamo Lakeline – Austin
Alamo Slaughter – Austin
Alamo South Lamar – Austin
Alamo Ritz – Austin
Alamo – Richardson
Alamo Vintage Park – Houston
Alamo Mason Park – Katy
Alamo – Lubbock
Alamo Marketplace – New Braunfels
Alamo Park North – San Antonio
Alamo Westlakes – San Antonio
City Base Cinema – San Antonio
Vermont:
Merril's Roxy – Burlington
Virginia:
Alamo Loudoun – Ashburn