First Look: Mark Wahlberg Gets Wet In 'Ted 2'; Tina Fey And Amy Poehler Hang Out In 'Sisters'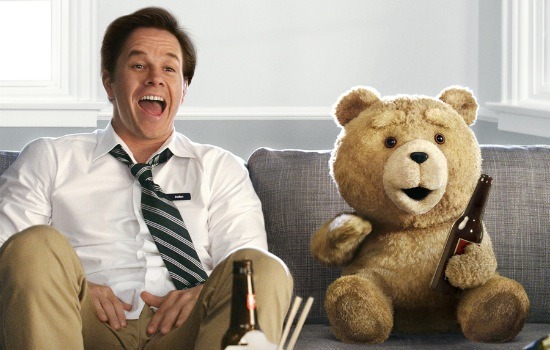 Ted 2 may not have the name-brand recognition of an Avengers or the budget of a Star Wars, but it is the only sequel of 2015 that has a foul-mouthed teddy bear as one of its leads. The first image from the new comedy shows said teddy bear (voiced by Seth MacFarlane) with his best friend John (Mark Wahlberg), preparing to for a swim.
The relationship at the heart of Sisters is less unusual, but no less intriguing. Real-life BFFs / perennial Golden Globes co-hosts Tina Fey and Amy Poehler star as grown-up siblings plotting one last epic house party. Hit the jump for the first looks at Ted 2 and Sisters. 
EW debuted the new images from Ted 2 and Sisters.
Wahlberg has said Ted 2 will see John and Ted acting "crazier than ever." The plot is being kept under wraps for now, but writer/director/star MacFarlane has confirmed one thing that won't happen: Ted isn't making any plush friends. "He's the only one of his kind who can talk," he said.
Morgan Freeman steps in as a famous civil rights lawyer who helps Ted take care of some legal issues. Amanda Seyfried replaces Mila Kunis as Wahlberg's love interest. MacFarlane also has a crazy supporting cast lined up including Dennis Haysbert, Liam Neeson, and John Slattery. Ted 2 will land in theaters June 26, 2015.
As for Sisters (formerly titled The Nest), Jason Moore (Pitch Perfect) directs the comedy about two estranged siblings who decide to host one last party before their parents sell off their childhood home. "People our age need a hardcore house party more than a 17-year-old," said Fey. "What are they cutting loose from?"
Sisters is so far the only release brave enough to go against Star Wars: The Force Awakens on December 18, 2015. However, Poehler relishes the challenge. "We said we'd only do the movie if it opened against Star Wars," she said. "We're not scared. It's what gets us up in the morning: We are going to f—ing crush Star Wars."