New Images: 'Jurassic World', 'Mad Max: Fury Road', 'Furious 7', 'Inside Out', 'Chappie', 'Insurgent', 'The Walk'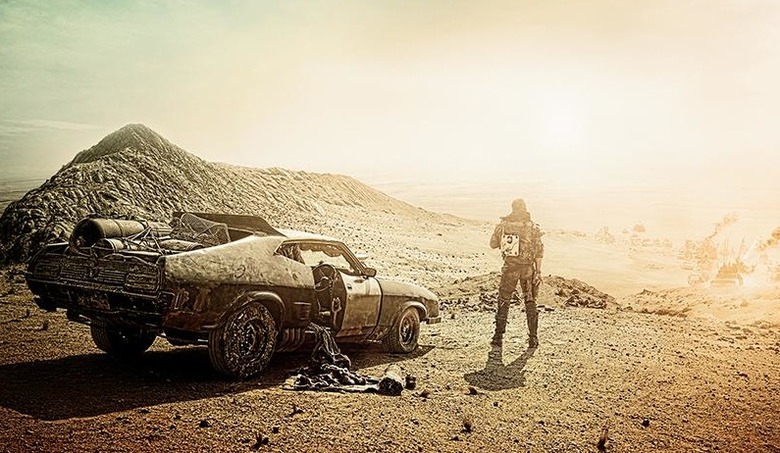 So what if January 1 is still a couple of weeks away? Get an early start on celebrating the New Year with this big batch of new photos from some of 2015's most highly anticipated releases, including Jurassic World, Mad Max: Fury Road, Furious 7, Insurgent, Inside Out, The Walk, and Chappie.
Hit the jump to see all the fresh images.
EW unveiled the new photos.
In order, we have:
Chappie (March 6), Neill Blomkamp's original sci-fi about a police robot (Sharlto Copley via the magic of mo-cap) who gains sentience and, apparently, some very questionable taste in accessories. Dev Patel plays the scientist who rebooted him.
Insurgent (March 20), the sequel to Divergent, one of this year's several dystopian YA hits. Shailene Woodley once again stars as Tris, a teen hero who's a special snowflake because she has more than one personality trait.
Furious 7 (April 3), the next installment of the inconsistently titled Fast and the Furious franchise. Vin Diesel and Dwayne Johnson return, and it's the last outing with the gang for the late Paul Walker. James Wan directs.
Inside Out (June 19), an animated adventure by Pixar set inside the mind of a young girl. Amy Poehler voices Joy (pictured), one of several emotions working together in the girl's emotional HQ. Pete Docter directs.
The Walk (October 2), Robert Zemeckis' live-action portrayal of the famous Twin Towers high-wire walk performed by Philippe Petit (Joseph Gordon-Levitt) in 1975. Ben Kingsley and Charlotte Le Bon also star.
Jurassic World (June 12), the Colin Trevorrow-directed sequel to the iconic sci-fi franchise. The characters in this one apparently didn't learn from the first Jurassic Park, because they decide to open a dino-themed park. Starring Chris Pratt and Bryce Dallas Howard.
Mad Max: Fury Road (May 15), the long-awaited sequel by George Miller. Tom Hardy plays the title character, who meets Imperator Furiosa (Charlize Theron) in an apocalyptic future. That might be Furiosa's acolyte Nux (Nicholas Hoult) slung over his shoulder.
There's tons more where that came from at EW, so click over there to check out the full gallery.